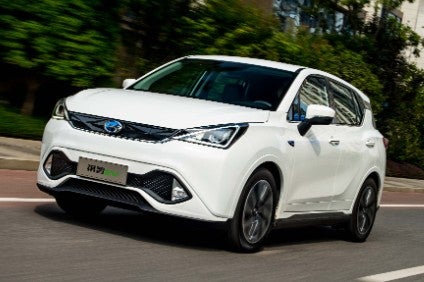 Mitsubishi Motors' local joint venture has started production of the new full EV variant of the Eupheme SUV in China. A PHEV version was launched earlier.

GAC Mitsubishi Motors (GMMC) is a joint venture between the Mitsubishi Motors Corporation (MMC), Guangzhou Automobile Group (GAC) and the Mitsubishi Corporation. The new EV was designed by GAC and produced by GMMC in Changsha, Hunan.

"The new model supports both Mitsubishi Motors and GAC's strategic growth goals, boosts development of an advanced automotive industry and will help rapid adoption of 'new energy vehicle' (NEV) technologies in the world's largest vehicle market," MMC said in a statement.

Twelve key cities will serve as the initial release markets for the Eupheme in China, including Beijing, Changsha, Guangzhou, Shenzhen, Hangzhou and Tianjin, with additional locations to be added this year.

The electric SUV has a claimed cruise distance of 410km (the fuel consumption measurement in China), and, MMC said, "combines the powerful torque of an electric vehicle with the comfort and interior space of an SUV".
It is priced from CNY135,800 (US$20,000).

MMC CEO Osamu Masuko said: "The launch of the Eupheme EV follows the PHEV to market and is an important milestone for GMMC. It demonstrates the critical role that EV technology will play in meeting Chinese consumers' needs and contributes to the automotive industry in China. China is one of our most important markets and we look forward to greatly expanding our position in the country during our Drive For Growth plan."

As the automaker's strategic partnership, sales and production platform in China, GMMC will play a key role in that.
By 2019, MMC plans aims to have more than doubled both sales and its dealer network, compared with 2016. It will also expand its range of 4WD and PHEV SUVs.