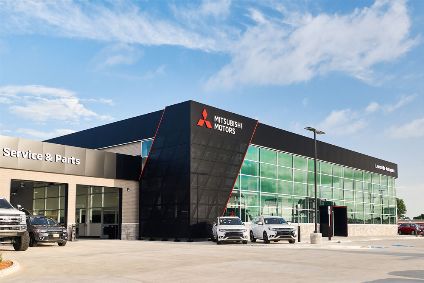 Mitsubishi Motors North America (MMNA) said it had completed construction of Lewisville Autoplex Mitsubishi, the brand's first ground-up build US dealership to use the new global dealer visual identity.
Based in Lewisville, Texas, and owned by local businessman Doug Baum, at 37,000 square feet the facility is one of MMNA's largest dealers and shows off the overall future direction of the brand.
"The visual identity programme is intended to enhance the customer experience in a high-quality retail environment, working in concert with the brand's Drive your Ambition tagline to engage and inspire customers," MMNA said in a statement.
"The main colour palette is cool and muted, with black, grey and red accents that support brand colours. The intent is for stores to be open, inviting and welcoming, all to ensure the highest quality of interactions throughout a customer's journey, from purchase to service to trade-in and repurchase."
MMNA said recently it would relocate its US headquarters from the Los Angeles region to Franklin, Tennessee, home of Alliance partner Nissan North America.
It added: "The completion of the Lewisville facility is yet another very tangible example of the ongoing plan to rejuvenate every aspect of Mitsubishi Motors and its operations in the US, from corporate management, to dealer partners, to each touchpoint in a customer's relationship with their vehicle.
Lewisville Autoplex Mitsubishi was a ground-up build, not a remodel, which allowed Baum and his architects to take advantage of every aspect of the company's new 'visual identity toolkit'.
The first store dealership worldwide with the new identity was opened recently in Saint-Hyacynthe, Quebec, Canada [a market MMC was relatively late to enter – ed].
Ultimately, the programme will introduce updated exterior and interior design to 5,000 dealers worldwide. There are 70 across the US currently enrolled in the programme with several on track to be completed by the end of 2019.