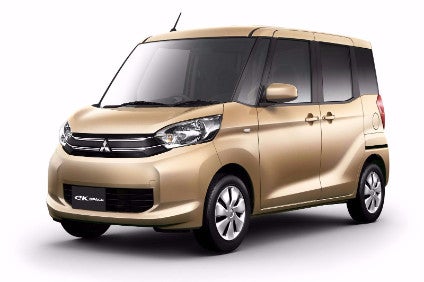 Shares in Mitsubishi Motors Corporation (MMC) fell 15% today after the automaker admitted to falsifying fuel economy tests affecting about 625,000 mini-cars it built for its own brand and, on an OEM basis, for Nissan Motor (NM).
"In connection with the certification process for the mini-cars manufactured by MMC, we found that with respect to the fuel consumption testing data submitted to the [Japan] Ministry of Land, Infrastructure, Transport and Tourism (MLIT), MMC conducted testing improperly to present better fuel consumption rates than the actual rates; and that the testing method was also different from the one required by Japanese law. We express deep apologies to all of our customers and stakeholders for this issue," the automaker said in a statement.

Applicable cars are four mini-car models, the Mitsubishi eK Wagon and eK Space and the Nissan-branded Dayz and Dayz Roox supplied to Nissan Motor since June 2013. To the end of March 2016, MMC had sold 157,000 units under its own brand and supplied 468,000 to Nissan.
MMC said it developed the cars and was responsible for obtaining the relevant certifications, so conducted fuel consumption testing. During development of the next generation of mini-car models, Nissan examined the fuel consumption rates "and found deviations in the figures". It requested MMC to review the running resistance value set by MMC during tests by MMC.
"In the course of our internal investigation upon this request, MMC learned of the improper conduct that MMC used the running resistance value (tyre rolling resistance and air resistance) for testing which provided more advantageous fuel consumption rates than the actual rates," the automaker said.
MMC added: "We have decided to stop production and sales of the applicable cars. NM also has stopped sales of the applicable cars, and MMC and NM will discuss compensation regarding this issue.

"During our internal investigation, we have found that the testing method which was different from the one required by Japanese law has been applied to other models manufactured by MMC for the Japanese domestic market.

"Taking into account the seriousness of these issues, we will also conduct an investigation into products manufactured for overseas markets.
In order to conduct an investigation into these issues objectively and thoroughly, we plan to set up a committee consisting of only external experts. We will publish the results of our investigation as soon as it is complete."
At a news conference in Tokyo, the company's president, Tetsuro Aikawa, said he was "ashamed" at the scandal," the Wall Street Journal (WSJ) reported. "I feel the difficulty of ensuring thorough awareness about compliance among all employees." he added.
Aikawa said the problems were likely to significantly dent Mitsubishi's profits, until recently on an upswing amid robust global vehicle demand.
Company executives told the WSJ publicly released fuel-economy numbers were off by 5% to 10%.
The WSJ noted major automakers globally have been caught making inaccurate fuel economy and emissions claims. In 2014, Hyundai Motor and affiliate Kia Motors agreed to pay penalties for overstating fuel economy measurements in the US. Since last year, Volkswagen has been embroiled in a scandal involving devices used to produce inaccurate emissions data, also in the US.
In addition, the WSJ said, Mitsubishi Motors has a history of scandals involving quality lapses and recall failures. In 2000, the company admitted having hidden vehicle defect information for decades, leading to arrests of former company officials. After an inspection in 2012, Japan's transport ministry said Mitsubishi had inadequately reported some defects and delayed recalls.
Since then, Mitsubishi has set up a 'customer first programme' and has been working to improve vehicle quality through employee training and revised vehicle development schedules.
Ryugo Nakao, Mitsubishi's executive vice president, said the latest problems showed the company's overhaul hadn't gone far enough.
"We need to clarify the causes of this problem and change procedures within the company," he said at the news conference, the WSJ reported.