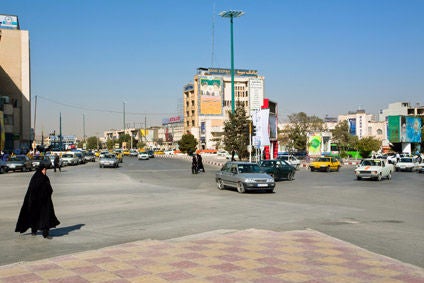 Iran anticipates domestic automotive content will reach 80% as the country continues to reap the benefits of sanctions ending at an astonishing rate.
PSA Groupe recently inked a US$436m joint venture deal with Iran Khodro with the proviso 40% of components must be sourced locally. The 50:50 joint venture will build a Tehran factory to produce vehicles on a platform IKCO will share to develop its own models, as well as assemble Peugeot's 208, 2008 and 301 for local sale.
The government in Tehran has now confirmed 40% local content will double to 80% and will likely become a benchmark for western carmakers anxious to enter a country where pent-up demand, so long stifled by draconian sanctions, could see a 3m market rapidly established.
"Peugeot will go up to 80% – it will start with 40% local content [and] go to 80%," Iran industry minister, Mohammad Reza Nematzadeh, told just-auto on the sidelines of this week's International Economic Forum (SPIEF) in St Petersburg.
"Yes, we anticipate [that will apply to all automakers]."
PSA and Renault have long beaten a path to Tehran – the former for 30 years – through local partners but it the crippling lack of modern components has hampered development of the industry as a whole and led to significant pollution problems as outdated cars take their environmental toll.
Iran was the subject of substantial interest at this year's SPIEF in Russia's second city, with both countries having endured cold wars of sorts, while both have extremely close experience of the west's strong disapproval expressed through tough economic sanctions.
Suppliers and OEMs are now starting to form a vanguard of manufacturers jostling for position in Iran with some estimates putting the market around 3m vehicles by 2025 as the country's mostly young, 80m population starts to demand goods so long denied them.
The minister underlined the growing interest from overseas in his country's automotive sector, confirming Tehran was in talks with many OEMs and suppliers with a view to cooperating, albeit with the stringent local content proviso.
"Yes, we are negotiating with several [car] companies and they are all welcome," he said. "We would like to get contact to [the] international market and renew our technology.
"We are looking to export our cars and also our car parts. I think we have concluded an agreement with companies from Germany and France, with Swedish companies [for example], for heavy trucks and buses.
French association, FIEV and Scandinavian entity, FKG Key, are among supplier lobby groups which have already trodden the road to Tehran.