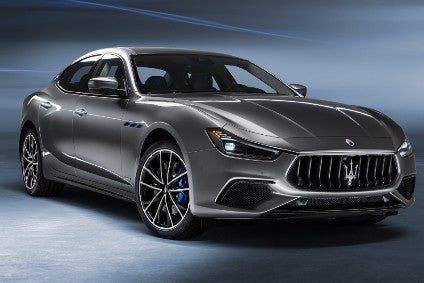 The much-heralded Ghibli Hybrid has turned out to be a mild hybrid and the first four-cylinder variant in the model line's history.
The Ghibli Hybrid, which effectively replaces the V6 diesel, is powered by a 1,998 cc turbo petrol engine which has a 48 volt alternator and an additional electric supercharger (e-Booster), supported by a battery. The latter is positioned in the boot/trunk.
Maserati says outputs are 330 CV (242 kW) and 450 Nm (332 lb ft), also stating a top speed of 255 km/h and acceleration from 0 to 100 km/h in 5.7 seconds. An eight-speed ZF automatic transmission is standard for this rear-wheel drive sedan.
The mild hybrid is set apart from other Ghiblis by a blue theme inside and out. That includes the three air ducts in each of the front wings/fenders, the brake calipers and the thunderbolt in the oval which encloses the Trident on the rear pillar. The same shade of blue is used for the emblem on the head restraints and embroidered seams of the seats.
The just-announced car will be the first variant for a facelifted Ghibli line-up. The basic model is more than seven years old and by rights should be getting close to replacement rather than being mildly restyled. A true successor probably won't appear until 2023.