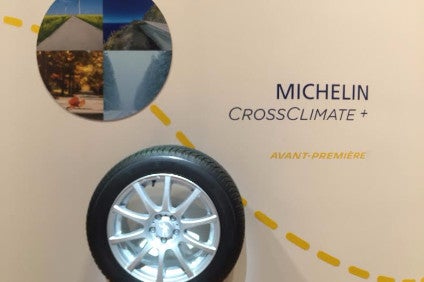 Michelin says it it's business goal is 'not only' to manufacture tyres, but rather be part of solutions to increasingly complex mobility challenges.
The French tyre producer made its comments last week at the Paris Motor Show, where it also launched a passionate defence of its view the current legal tread depth limit of 1.6mm was preferable to calls from others for a threshold of 3mm or 4mm.
"Our mission is to enhance our customers' mobility sustainability; we are not there only to make tyres," Michelin Europe chief operating officer, Florent Menegaux told just-auto at the Paris show. "We believe technology should be there to serve people and at the same time…enhance the environment.
"The challenge for Michelin is to adapt in an ever-transforming world. It is having better understanding of environmental issues – it is a great opportunity for us to demonstrate what we have been saying for more than 100 years.
"We have never believed the tyre is a commodity – it is a complex object. Everybody can [make] a tyre, but the tyre can fulfil much more than just being an interface between the vehicle and the road.
"We believe a tyre should be safe, save fuel [and] should use the least material possible. People may be suspicious about [what] we say because they think our purpose is to sell more. Our aim is not to do that – we really believe mobility is a factor of progress for people.
"Making money is for us the best way to assess what we propose. It is also providing the means to develop ourselves, to provide the next generation of technologies."
Despite Michelin clearly having French roots in Clermont-Ferrand, the tyre manufacturer is keen to stress its global reach, highlighting how consumers in the US for example believe the company to be American.
The supplier cited – among others from its stable of technologies in Paris – its current CrossClimate brand for use in summer and winter and which allows it to be used in temperatures ranging from 25C down to 7C – but also its replacement CrossClimate+ to be launched in February next year.
Designed to perform on dry and wet surfaces as well as guaranteeing traction on snow-covered roads, the manufacturer said the move is "a stand against the planned obsolescence of some tyres."
The CrossClimate+ tyre will replace the current generation of Michelin CrossClimate variants.