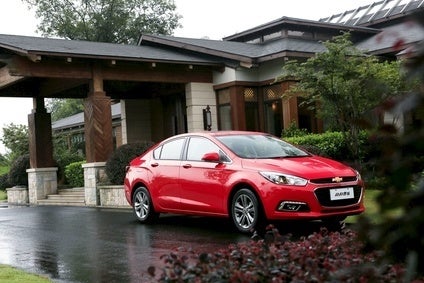 General Motors has said that it will invest US$350m at its Ramos Arizpe manufacturing facility to make the next generation Chevrolet Cruze model.
The move will consolidate Mexico's position as GM's sixth largest national producer of cars with 7% of GM's global production.
GM's Ramos Arizpe facility was opened in May 1981 and now represents 25% of the total production of GM vehicles in Mexico, with around 173,400 units manufactured in 2014. Almost 90% of the plant's output is exported, much of it to markets in Latin America.
The next generation Cruze will also be manufactured at GM's Lordstown Complex in Ohio and in China.
It's the first time that the Cruze model has been made in Mexico, a country that is attracting increasing investment due to its favourable trading links – especially to the US – and low costs. The Cruze is currently imported from South Korea for sale in Mexico.
The next generation Cruze was launched in August of last year in China. In China, the car is available with the choice of a 1.4-litre turbocharged and 1.5-litre naturally aspirated four-cylinder petrol engines. The Cruze is also offered with a new DCG seven-speed dual-clutch transmission co-developed by GM and SAIC, a new six-speed manual transmission developed in Europe, and the third-generation S6 six-speed automated manual transmission.