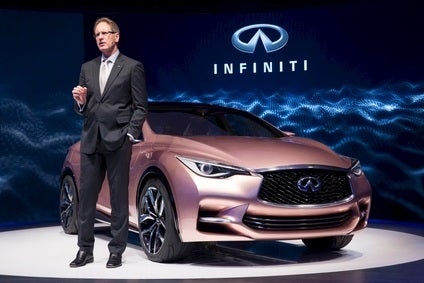 Daimler and the Renault-Nissan Alliance have broken ground for their joint venture manufacturing complex COMPAS (Cooperation Manufacturing Plant Aguascalientes), in Aguascalientes in central Mexico. The factory will build premium compact vehicles for Mercedes-Benz and Infiniti.
"Today marks an important milestone for the partnership between Daimler and the Renault-Nissan Alliance. This new joint plant will help both partners to serve their respective customers faster and with more flexibility. As Mercedes-Benz' first production location for compact cars in the NAFTA region, it will also significantly enlarge our footprint here," said Mercedes production and supply chain chief Markus Schaefer.
"On our end, while sharing high efficiency and flexibility in the joint venture, we will add Mercedes-Benz specific technology as well as further training and assistance by our global lead plant for compact cars in Rastatt, Germany. This proven approach will guarantee that our quality here in Aguascalientes will be the same as at the other locations of our global compact car production network in Europe and China."
COMPAS is 50/50 owned by Daimler and Nissan. The partners will spend US$1bn on the joint venture which will oversee the construction and operation of the manufacturing plant.
"This new plant represents yet another example of the growing collaboration between the Renault-Nissan Alliance and Daimler. Mexico is a global benchmark for quality and efficiency and is a major reason why Daimler and Nissan have decided to produce the next generations of premium compact cars for Mercedes-Benz and Infiniti here in Aguascalientes," said Nissan North America chairman Jose Munoz.
COMPAS will have an initial annual production capacity of 230,000 vehicles and will create about 3,600 direct jobs by 2020. Depending on the market development and customer demand, there will be the potential to add additional capacity. Infiniti production will begin in 2017 with the first Mercedes-Benz vehicles scheduled off line in 2018. COMPAS is also expected to generate some 12,000 indirect jobs – largely due to a high local content rate which will significantly increase the Mexican supply base.
COMPAS is led by an international management team from Daimler and Nissan: Ryoji Kurosawa, chief executive officer (CEO), Uwe Jarosch, chief financial officer (CFO), and Glaucio Leite, chief quality officer (CQO).
Aguascalientes governor De La Torre said the new plant would be an important source of jobs for the people of Aguascalientes.
"This first stone reaffirms Aguascalientes's position as a major manufacturing base for the global auto industry. We will continue to encourage public and private partnerships to strengthen our position as a base for the world's most important industries."
The plant is close to Nissan's recently completed Aguascalientes A2 plant. Infiniti's parent company has manufactured, not just assembled, cars in Mexico for decades and now has three plants there.