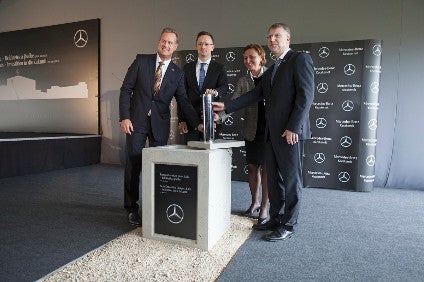 Mercedes-Benz is to plough EUR580m (US$672m) into its plant in Kecskemét, Hungary, to produce the next generation of the automaker's compact cars.
In addition to a new body shop, the cash injection will see capacity expanded.
"Kecskemét is and will remain a cornerstone of the compact vehicle production compound," said Mercedes-Benz cars head of Compact Vehicle Production, Michael Göbel.
"Its expansion for the next generation of compact vehicles will further strengthen this role within the international production compound."
For his part, Mercedes-Benz Manufacturing Hungary site manager, Christian Wolff added: "This investment is a clear sign of our commitment to this location and offers good future prospects for the employees in Kecskemét.
"We will also invest in the improvement of the ergonomic and working conditions, as well as in the qualification of the workforce."
Around EUR250m will be for the new body shop, which is being built on an area of 99,000 square meters.
Other parts of the plant, for example the press shop, will also be expanded as part of the total investment, while the production line will receive adjustments and robots for surface treatment.
In the final assembly section for the next generation of compact vehicles, materials will now be brought to the assembly line in pre-picked baskets of goods.
This will be carried out autonomously by driverless transport vehicles with prepared baskets of goods from the logistics and picking zones.