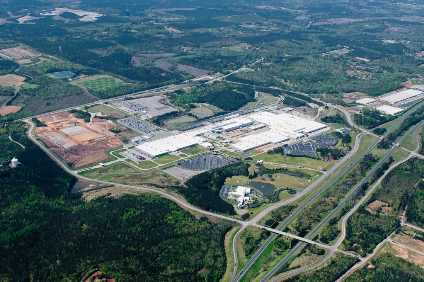 As US president Donald Trump continues to draw attention to the US trade deficit with Germany, Daimler has stressed its contribution to the US economy via its US manufacturing operations and the purchasing of parts from the US supplier industry.
Mercedes' next SUV generation products, including plug-in hybrid vehicles, will also roll off the production line at the Tuscaloosa plant.
"Our suppliers stand for innovation and top quality. That's also true for the American supplier industry," said Dr Klaus Zehender, Member of the Divisional Board of Mercedes-Benz Cars, Procurement and Supplier Quality. "Now we are setting the course for the future and, together with our partners, we will create the basis for successful series production of future SUV models."
Mercedes said that Dr Klaus Zehender and Wolf-Dieter Kurz, Head of the SUV and Compact Cars Product Groups, Mercedes-Benz Cars, underlined the current and future importance of SUV production in Tuscaloosa during personal discussions with partners, including Lear Corporation, SMP and Magna Kamtek. Mercedes-Benz emphasised the successful partnership that has grown over the last years. "The increasing requirements due to a continual rise in production numbers for the SUV segment was a massive challenge for all suppliers, which was mastered very well," says Klaus Zehender.
Jason Hoff, President and CEO of Mercedes-Benz US International, Inc. echoed Dr Zehender's comments. "These are exciting times for our Alabama facility as we prepare to take on this new challenge to build the next generation of SUVs. Mercedes-Benz became the first auto manufacturing plant to build vehicles in Alabama more than 20 years ago and, since that time, other automakers and suppliers have joined us. Our suppliers have found – just as we have – that Alabama is a great place to do business."
Localisation rate continually increased
Currently, Mercedes says there are almost 200 U.S.-based suppliers providing support to the Mercedes-Benz Tuscaloosa plant. The majority are international companies that have followed Mercedes-Benz to Tuscaloosa and established their own production sites in the U.S.A.. Leading companies are, for example, the two global players Friedrich Boysen and Brose Fahrzeugteile, which both have locations in Tuscaloosa, Alabama. Many of these suppliers also export components from the U.S. to other Mercedes-Benz plants worldwide, the company says.
Mercedes-Benz says it sees value in having more suppliers with locations in Alabama: It increases overall flexibility, improves direct communication between the plant and its suppliers, reduces transport times and optimizes manufacturing and logistics costs. Overall, this results in considerably increased efficiency. Reciprocal cooperation leads to greater breadth and depth localisation.
Mercedes-Benz Cars is prepared for future trends with 'CASE'
During the Mercedes Supplier Forum, suppliers are being introduced to CASE – a new strategic focus for Mercedes-Benz Cars based on four main future trends in the automotive industry: Connectivity, Autonomous, Shared & Service and Electric Drive. Each of these trends has the potential to revolutionise the automobile industry. Mercedes-Benz Purchasing and Supplier Quality works on incorporating new innovations, software and services such as map data into its products four to five years ahead of customers being able to experience them in a vehicle. Mercedes-Benz also needs its U.S. suppliers to focus on innovation as well.
Mercedes-Benz Tuscaloosa plant modernising its production, logistics and IT processes
The Mercedes-Benz Tuscaloosa plant is the traditional location for SUV manufacturing, with the current GLE, GLE Coupe and GLS models being produced exclusively for all worldwide markets. Since June 2014, the plant has also built the C-Class for the North American market. Tuscaloosa is gearing up to produce the next generation SUVs series model, including plug-in hybrids. The plant is in the midst of a $1.3 billion expansion to transform its operations into a high-tech location for SUV assembly. The expansion includes a new body shop, modifications to its SUV assembly shop, and modernisation of logistics and IT systems.
Plant Tuscaloosa plant was the first major Mercedes-Benz production plant located outside of Germany and is seen as the centre of the automobile industry in Alabama. More than 3,600 employees currently work at the location, and it is estimated the plant creates more than 10,000 indirect jobs at suppliers and other service providers in the region. Since 1995, $4.5 billion US dollars were invested in the Tuscaloosa plant. The plant was founded in 1995 and in 1997 it began production of the former M-Class (today the GLE). In 2016, more than 300,000 vehicles rolled off the Tuscaloosa production line.