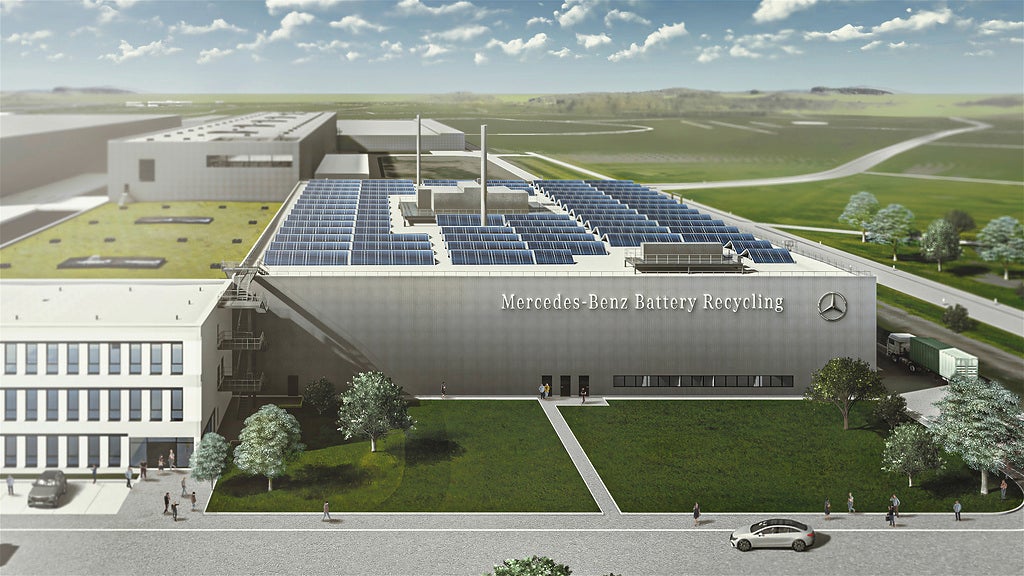 Mercedes-Benz broken ground for a new battery recycling factory in Kuppenheim, Germany, cutting resource consumption and establishing closed-loop recycling of battery raw materials.
The first stage of the plant – mechanical dismantling of electric vehicle batteries – is scheduled to start ramping up at the end of this year. Subject to "the outcome of promising discussions with the public sector", a hydrometallurgy pilot plant will be established only a few months later.
The automaker claims this "innovative" approach for an integrated recycling concept within a single factory is currently unique in Europe and is "investing a double-digit million euro amount in the construction of the balance sheet CO2-neutral plant" funded by the German Federal Ministry of Economics and Climate Protection as part of a scientific research project.
The company noted limited availability of important and "highly sought-after" raw materials such as lithium, cobalt or nickel.
"Crises such as the corona pandemic or the brutal Russian war of aggression against Ukraine have clearly demonstrated our dependence on supply chains and primary raw materials. Increased recycling can help to reduce this dependence on critical raw materials and thus strengthen the resilience of the economy."
The recycling factory will dismantl battery modules and shred, dry and process battery -grade materials. The hydrometallurgy process with a recovery rate of more than 96 percent enables a true circular economy of battery materials.
Mercedes-Benz is cooperating with Primobius (a joint venture of the German mechanical engineering company SMS group and the Australian project developer Neometals).
The pilot plant is expected to have an annual capacity of 2,500 tonnes. The recovered materials will be used to produce battery modules for new Mercedes-Benz models. Based on the findings of the pilot factory, production volume could be scaled up in the medium to long term.