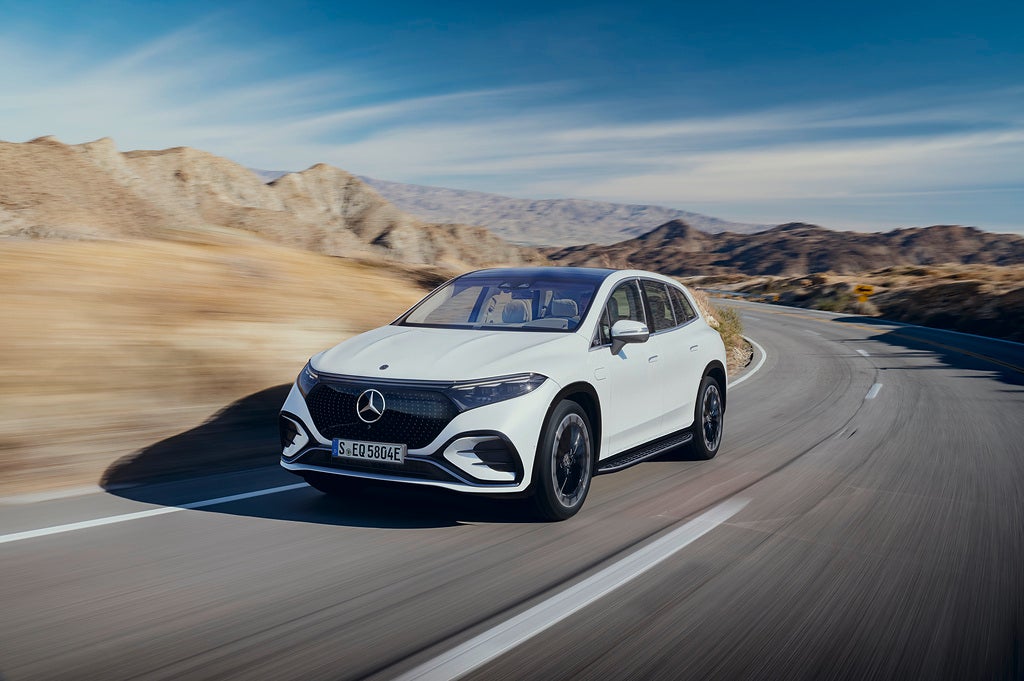 Worldwide sales by Mercedes-Benz Cars sales rose 3% year on year to 503,500 units (+3%) in the first quarter of 2023 with what the automaker dubs 'Top End' and battery electric vehicle (BEV) sales up 18% and 89% respectively.
"Despite ongoing supply chain disruptions, economic headwinds and geopolitical uncertainty, G-Class, Mercedes-AMG, Mercedes-Maybach and Entry segment electric vehicles posted strong sales figures," the company said in a statement.
Battery electric vehicle (BEV) sales rose 89% to 51,600 units, taking 10% of overall sales, up from 6% in Q1 2022. BEV sales (Smart now excluded) rose 119%. Entry segment electric vehicles proved popular with EQB sales up 189% and EQA sales rising 64%.
BEV sales surged 327% in the US and 41% in Europe.
Including hybrids, almost every fifth vehicle sold in the first quarter was electrified.
"Our customers' desire for our Top-End products and battery electric vehicles is the driving force behind our sales result in the first quarter," said sales chief Britta Seeger.
"We successfully introduced our direct sales model in the UK, while Germany and two more markets will follow in 2023."
Europe sales increased 8% to 163,900 units thanks to strong demand for Top End vehicles (+46%). BEV sales rose 41% and accounted for 17% of total Europe sales.
Overall sales in Germany were up 21% with BEVs up 29%. Belgium sales increased 17% as BEV volume rose 186% while sales in Italy (+22%) and Spain (+28%) also rose.
Asia sales rose 3% to 247,700 units. The E-Class was the top selling vehicle in China with 48,700 units sold (+11%), followed by the C-Class (+37%). BEV sales rose 109%.
In Korea and Japan, BEV sales grew 288% and 379% following further model launches.
India sales increased 17 while Malaysia volume was up 53%.
Sales in North America rose only 1% though US BEV sales surged 327% and now account for 14% of total sales following launches of four new models.
"Sales in the rest of world were influenced by Mercedes-Benz's decision to stop its business activities in Russia from March 2022 onwards," the automaker said, without elaborating.
Sales overview
Q1 2023
Q1 2022
Change in %
Mercedes-Benz Cars
503,500
487,000
+3%
– thereof BEVs
51,600
27,400
+89%
Mercedes-Benz Cars sales by segments*
Top-End segment
91,800
78,100
+18%
Core segment
248,400
280,200
-11%
Entry segment
163,300
128,800
+27%
Mercedes-Benz Cars sales by regions and markets
Europe**
163,900
151,300
+8%
– thereof Germany
60,500
50,000
+21%
Asia
247,700
239,400
+3%
– thereof China
191,000
186,100
+3%
North America***
75,100
74,200
+1%
– thereof U.S.
64,500
64,700
+0%
Rest of World
16,800
22,000
-24%
*Top-End: Mercedes-AMG, Mercedes-Maybach, G-Class, S-Class, GLS, EQS and EQS SUV
*Core: All derivatives from C- and E-Class, incl. EQC, EQE and EQE SUV
*Entry: All derivatives from A- and B-Class incl. EQA, EQB and smart
** Europe: European Union, United Kingdom, Switzerland and Norway
*** North America: USA, Canada and Mexico
All figures rounded.