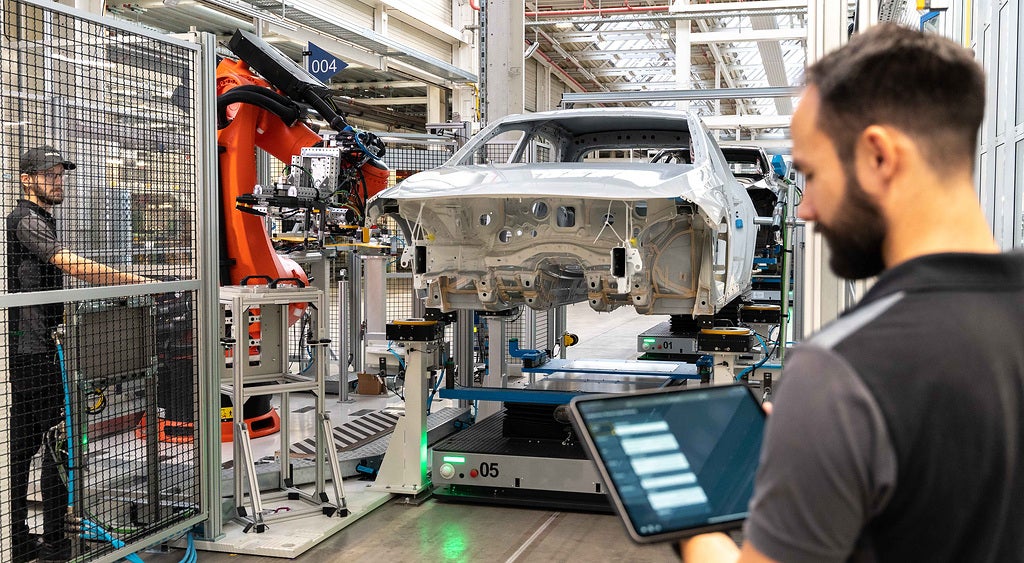 Mercedes-Benz has opened its Digital Factory Campus (MBDFC) after turning its Berlin-Marienfelde site into a centre for 'digitalised' automotive production.
With pilot lines and test cells, the campus is now a hub for global digital production technology, combining development, testing, and rapid global implementation of pioneering MO360 software applications for automotive production as well as acting as a digital startup factory.
The campus will also be the MO360 training and qualification centre for implementing digital approaches in the global network. With the MBDFC and the production of electric drive components, the site forms an important pillar of the automaker's "electric only" strategy – it will spend "a triple-digit million euros amount" at Berlin-Marienfelde over the next five years.
M-B chairman Ola Kaellenius said in a statement: "The transformation from a location for conventional drive components into an innovation hub for software and a production site for electric motors, is enormous."
Through the introduction and further development of MO360, all core production processes have already been standardised and digitised in all Mercedes-Benz plants.
The digital factory campus is driving development, testing and validation of future software applications and concepts in a real production environment. In the body shop, assembly and technology cells, production processes are replicated and new features and software updates tested before being transferred to factory production lines. Virtual methods combined with real world validation shortens development time and increases robustness.
The campus is also an MO360 training and qualification centre where programmes are developed for the entire production network.
Labour chief Sabine Kohleisen said: "Production facilities are becoming increasingly intelligent, networked and collect a large amount of data. Providing our employees with targeted training in the diverse topics of digitisation and electrification is one of our most important tasks in the transformation.
"Our pioneers in Berlin are a very good example of the willingness to change and to pursue lifelong learning. The colleagues are now taking the next step into their digital future by completing their qualification."
The campus also relies on cooperation with with universities, research institutions and industrial companies. Mercedes-Benz and Siemens , with the support of the state of Berlin, have been working together on sustainable digitalisation and automation since 2021. As a provider of automation, industrial software and intelligent infrastructure, Siemens is contributing expertise and technology to develop flexible, efficient and sustainable automotive production together with Mercedes-Benz. Optimised algorithms for production line robotics make it possible to operate more efficiently and reduce production times.