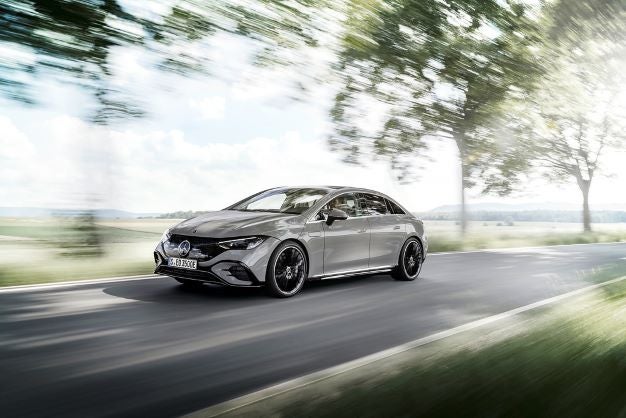 At its first digital ESG (Environment, Social and Governance) conference for investors and analysts, Mercedes-Benz announced measures aimed at cutting CO2 emissions.
The automaker aims to at least halve CO2 emissions per passenger car over the lifecycle by the end of this decade compared to 2020. To achieve this goal, the key points are: electrifying the vehicle fleet, charging with green energy, improving battery technology, extensive use of recycled materials and renewable energy in production. Mercedes plans to cover 70% of its energy needs through renewable energy by 2030 by adding solar and wind power at its own sites as well as through further power purchase agreements.
Further electrified models will be added to the model line and all commercial vans will go electric.
Mercedes-Benz claims 'green charging' at all of the 300,000 public charging points in its network throughout Europe and electricity from renewable sources is fed into the grid.
Batteries are also in focus. With the current EU electricity mix, supply chain and production account for more than half of the lifecycle CO2 emissions. This proportion can be reduced significantly through the use of renewable energy. By transitioning to CO2-neutral cell production, it is possible to cut emissions for the production of the entire battery pack by 20 percent. Additional CO2 savings are expected to be achieved through further measures such as improving anode and cathode production process. High silicon anodes offer great potential in energy density.
The company is also working on solid-state batteries and starting a CO2-neutral recycling factory in Kuppenheim, Germany, to recycle end-of-life electric vehicle batteries using a new hydrometallurgical technique which increases the recycling rate to 96 percent.
The automaker is setting up a green steel supply chain to expand its use of low-CO2 and zero‑CO2 steel, focusing on avoidance and reduction of CO2 emissions rather than offsets.
It claims to be the first automaker to commit to sourcing only primary aluminium certified by the Aluminium Stewardship Initiative (ASI) for its stamping plants and foundries in Europe in future. This requirement will be rolled out to other locations outside Europe in the medium term.
Several sustainable materials are already in series production in some vehicle models. These include seat upholstery fabrics from recycled PET bottles as well as floor coverings made with yarns from fishing nets recovered and fabric remnants from old carpets. Some models feature cable ducting made with recycled landfill waste.
The company aims to increase the use of recycled materials per vehicle by 2030 to 40 percent.