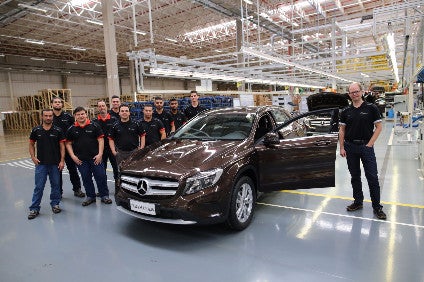 Five months after the official plant opening in Brazil, Mercedes-Benz has started production of the second model at its new passenger car assembly plant in Iracemápolis – the GLA compact SUV is flexibly assembled on the same line as the C-Class sedan. Both models are the brand's best sellers in Brazil's premium market.
"By expanding the local production in Brazil we are consistently strengthening our global competitiveness," said Markus Schäfer, Mercedes-Benz Cars' head of manufacturing and supply chain management. "With the launch of the GLA in Iracemápolis we are setting new standards in terms of flexibility and efficiency: For the first time, vehicles with front and rear-wheel drive are rolling off the same assembly line in one of our plants. This makes Iracemápolis a benchmark within the global production network."
The highly flexible production is enabled through a low degree of automation.
Preparing for GLA assembly, Brazilian employees were sent to sister plants in Pune, India, and Kecskemét, Hungary. On-site, they were made familiar with the production processes in order to pass on their knowledge to colleagues in Ircaemápolis as multipliers.
"Our employees are highly motivated," said Christ Wittke, plant manager at Iracemápolis. "With the support of the production network, we were optimally prepared for the launch of the GLA. The team did a great job managing the production start of two models within just a few months."
The Iracemápolis plant is located in the São Paulo region and was opened in March 2016.