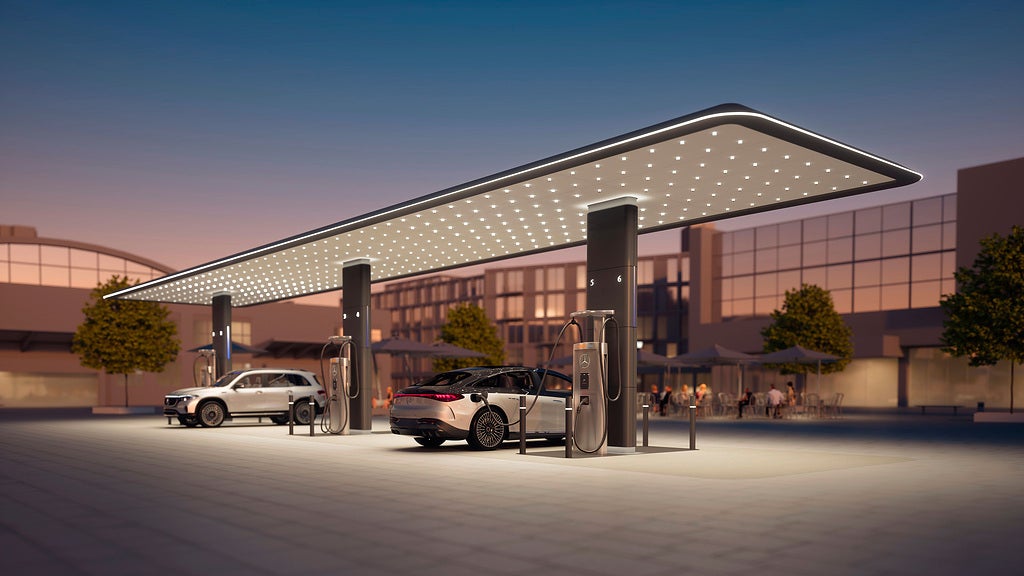 Mercedes-Benz has announced new plans to launch a global high-power charging network across North America, Europe, China and other key markets. It will begin to be built this year in the US and Canada, followed by other regions around the globe.
The aim is to have the full network in place before the end of the decade, when Mercedes-Benz intends to go all-electric wherever market conditions allow.
The company said it believes this strategic move will significantly enhance the usability and convenience of its new generation of electric vehicles, differentiate the Mercedes-Benz ownership experience and accelerate the EV transformation. The charging network will focus first and foremost on Mercedes-Benz customers, who will enjoy preferential access via a reservation function and other benefits. However, it will also be open to drivers of all other brands with compatible technology.
The new initiative, alongside ongoing support for shared networks such as IONITY, also aims to drive global adoption of electric mobility.
At CES 2023 in Las Vegas, Mercedes-Benz announced that the rollout of its high-power charging network will start this year in North America. The collaboration partners in NA include MN8 Energy, one of the largest solar energy and battery storage owners and operators in the US, and ChargePoint, a leading EV charging network technology company. By 2027, a network totalling more than 400 hubs across North America with more than 2,500 high-power chargers is planned to offer a premium, sustainable and reliable charging experience.
Ola Källenius, Chairman of the Board of Management of Mercedes-Benz Group AG, said: "Mercedes-Benz already offers what we believe to be the finest EVs in the market. But to accelerate the electric transformation, we need to ensure that the charging experience keeps pace as well. Our customers deserve a compelling charging experience that makes electric vehicle ownership and long-distance travel effortless. We won't take a wait-and-see approach for this to be built. That's why we are launching a global high-end charging network. It's designed to become another differentiator of Mercedes-Benz ownership for our customers and an asset with value creation potential for our company. We are excited to start right here in North America with strong and experienced partners like MN8 Energy and ChargePoint."
Depending on region and location, the hubs will offer 4 to 12, and ultimately as many as 30, high-power chargers (HPC) with up to 350 kW of charging power. Intelligent charge-load management will allow each vehicle to charge at its maximum capacity keeping waiting times to an absolute minimum, Mercedes says.
The locations and surroundings of the Mercedes-Benz charging hubs will be carefully selected with wider customer needs in mind. The best possible charging experience will therefore come with food outlets and restrooms situated nearby. Facilities will also be equipped with surveillance cameras and other measures to provide a safe and secure charging environment.
The total investment cost for the North American network will be just over 1 billion Euros, deployed over the next 6-7 years. The capital for this will be provided by Mercedes and MN8 in a roughly 50:50 split.