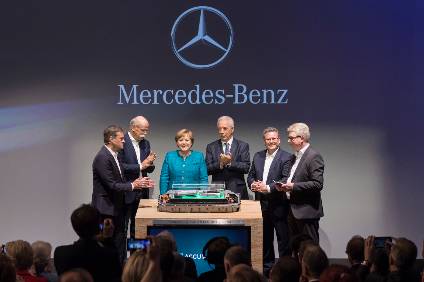 Mercedes-Benz is to build a battery factory at Jawor in Poland in a move that will extend its global battery production network to nine factories. The decision to build a battery plant follows investment in Poland – also at Jawor – in an engine plant.
Mercedes says the engine factory is currently being built and will produce four cylinder engines for hybrid and conventionally driven vehicles. This will be the first production site of Mercedes-Benz Cars in Poland and will offer more than 1,000 jobs.
"We will electrify the complete portfolio until 2022 and will be able to offer in each segment various electrified alternatives to our customers. This includes more than ten pure electric vehicles. We will produce batteries on our own, what we consider a significant success factor in the era of electric mobility. After the production of high-tech engines, we will establish additional future technology in Poland. The battery factory in Jawor is the second largest investment at this new Mercedes-Benz site," says Markus Schäfer, Member of the Divisional Board of Management of Mercedes-Benz Cars, Production and Supply Chain.
Mateusz Morawiecki, Poland's prime minister said: "We are witnessing the 4.0 industrial revolution in which Poland plays a leading role. All the more we are glad that in Jawor will be produced not only traditional engines, but also the hearts of cars of the future, namely electric batteries."
Engine production in Jawor will start this year and supply car plants of Mercedes-Benz in Europe and around the world. With the construction of a battery factory on the existing ground at the site approximately 300 new jobs will be created.
Series production of batteries for vehicles of the product and technology brand EQ is slated at the beginning of the next decade.
Mercedes-Benz also says the engine factory as well as the battery factory will be supplied with CO2-neutral energy.
Mercedes' existing battery battery production network plan consists of eight factories at six sites on three continents:
In Kamenz the battery production is running since 2012. Additionally a second battery factory is being built at this site. The series production will start in spring 2019.
At the Mercedes-Benz plant in Untertürkheim two battery factories are planned.
Currently Daimler and Joint-Venture partner BAIC together are building a local battery production at the existing location in Yizhuang Industrial Park in Peking (China).
Near the existing Mercedes-Benz SUV plant in Tuscaloosa (USA) construction works of a battery factory have recently begun.
Together with the local partner Thonburi Automotive Assembly Plan (TAAP) construction of a battery production in Bangkok (Thailand) is underway.
At the Mercedes-Benz car site in Sindelfingen a new battery factory is planned.
With Jawor, the global battery production network grows to nine factories at seven sites on three continents.