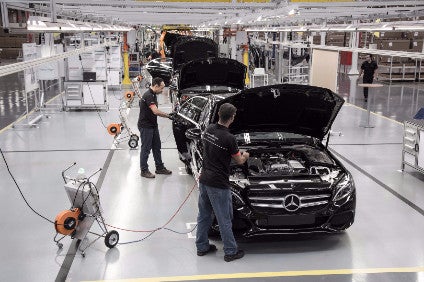 Mercedes-Benz has gradually started production at its just-opened, 20,000-unit capacity assembly plant in Iracemápolis, 170km/106 miles north-west of São Paulo City.
First model off the assembly line is the C Class saloon to be followed by the GLA compact crossover in the second half of 2016.
Daimler now has 26 plants around the world with most building vehicles which share architecture (eg front-wheel drive, 4×4, saloons, SUVs, crossovers, coupes, convertibles and one-box). But this new plant in inland São Paulo state can assemble almost any one of the German brand's current 35 models.
According to Markus Schäfer, member of the board for cars, production and logistics, who visited Brazil: "Iracemápolis will be the reference for medium-size plants in our group, layout and technology considered. We will accomplish quality, highly flexible production to meet local demand."
The BRL600mi/U$160m investment will create 750 direct jobs by the end of 2016 end and is part of the Mercedes-Benz 2020 plan. The new factory was built in a record 19 months and is part of a global assembly network that includes India, Indonesia, Malaysia, Thailand and Vietnam.
Assembly has started with one shift expected in the first full year to build 12,000 units. The initial pace is slow with no date scheduled for a second shift to start. Daimler has no plans for export, not even to neighbouring South American markets.
Forecasts point to zero growth in Brazil for premium models in 2016 compared to a relatively good 2015 for the segment. Yet, in view of an expected overall passenger car market slump of 20%, this is not so worrying a scenario.