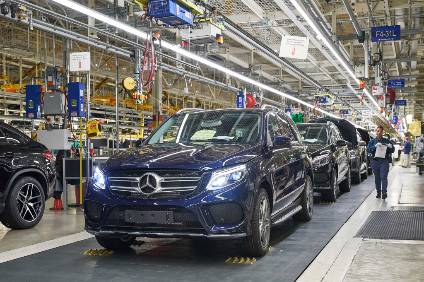 As part of a cost-saving reaction to lower demand caused by the COVID-19 pandemic and a sharp deterioration in financial results, Daimler is rejigging plant-model mix in North America.
Mercedes-Benz will cease making the C-Class at its Tuscaloosa, Alabama, plant, leaving the factory to specialise on SUVs. The move is part of a focus on cost savings. Last week, the company announced hefty quarterly losses.
"Due to the high demand and variety in our SUV models, Mercedes-Benz AG has decided to provisionally dedicate its production capacities in Tuscaloosa to producing its SUV models GLE, GLE Coupe, GLS and GLS Maybach," the company said in a statement.
"A major factor behind this measure is that the Tuscaloosa plant is preparing to integrate the upcoming electric SUV models from the EQ product and technology brand into its operations. This will require certain construction projects. Therefore, the C-Class will be produced at Mercedes-Benz cars production plants in Bremen (Germany), East London (South Africa) and Beijing (China)."
Reuters also reported that Mercedes will stop producing of a variant of compact Mercedes-Benz A-Class in Aguascalientes, Mexico, to instead focus on the GLB, a newer, higher-margin SUV model.
As part of cost savings Daimler has already said it will sell its Hambach manufacturing facility in France, which currently makes Smart brand vehicles.
Thousands of job cuts are also reportedly in prospect as part of a strong push for cost savings.
See also: Daimler Q2 preliminary results in red ink but beat expectations