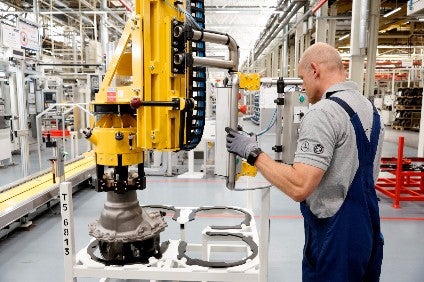 Production of a new, fuel efficient truck axle has started at Daimler's Mercedes-Benz plant in Kassel.
The rear axle reduces fuel consumption of the Actros truck by up to 0.5%. In addition to the weight savings, the so called New Final Drive (NFD) particularly benefits from the actively controlled oil regulation in the final drive, the heart of the axle.
This technology and type of construction is claimed to be without parallel worldwide: lubricating oil is supplied as needed depending on the speed, torque and temperature.
Intelligent oil management minimises the swirl of liquid in the final drive and thus reduces the friction loss from the gears turning in the oil bath. The NFD axle completes the second generation of the integrated powertrain from Daimler Trucks and results in fuel savings of up to 6.5% for the Actros compared with its predecessor. As part of the Daimler Trucks platform strategy, the new truck axle will be produced at both Kassel and also at the US site in Detroit.
"The second generation of the integrated powertrain from Daimler Trucks – consisting of engine, transmission and axle – has already resulted in fuel savings of up to 6% for the Actros and ensures the lowest possible total cost of ownership. The world's first intelligent truck axles even enable us to reduce fuel consumption by a further 0.5%. This once again demonstrates our technology leadership and directly pays off for our customers", said Frank Reintjes, Daimler's head of global powertrain and manufacturing engineering trucks.
New axle assembly line
The axle assembly line was constructed in recent months. Components inside the axle can now be directly welded together with new laser technology instead of being bolted. The resulting smooth mating surfaces reduce unnecessary oil swirl in the final drive and have a positive effect on fuel consumption. EUR30m (US$33.6m) was spent on the new line.
"Cutting-edge product technologies and extensive investments in production facilities ensure that the site will remain profitable and competitive in future", said Ludwig Pauss, site manager of the plant.