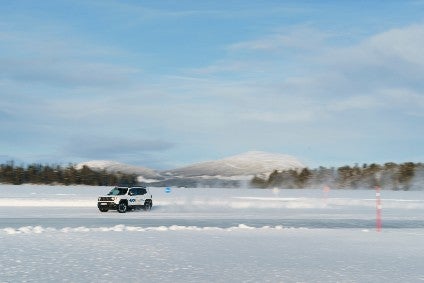 GKN Automotive says its investor group owner, Melrose, understands the potential of the electrification market as the supplier looks to capitalise on the powerful trend to new mobility solutions.
The UK-headquartered global supplier is now almost two years into its new organisation, following Melrose Industries' controversial acquisition of the business after the British government reportedly waved through the purchase, concluding it raised no national security concerns on the defence side of GKN's activities.
"Melrose understands more and more our business," VP Engineering GKN e-Powertrain, Rainer Link told just-auto on the sidelines of the manufacturer's annual Wintertest at the northern Swedish test track of Arjeplog. "They are supporting very fast decision-making.
"There is pressure for the numbers and everything is a bit more dynamic [and] if we need a decision [they are] really helpful. They understand the electrification market. E-Powertrain, that is where we want to grow [and] Melrose has a focus on e-Drive.
"In 10-15 years from now, we are still GKN Automotive. We are growing with our driveline products and we have a very big market share. All wheel drive and mechanical [for example] will be stable. There will be more electrified units, more hybrids. We are in very good position [and] we are lucky having no combustible products.
"We are a global power. We are in Japan, Europe and China where we have a joint venture. From an operational point of view, we have flexibility."
In a ballot of GKN shareholders Melrose won control of GKN with the support of 52.43% of shareholders.
In Arjeplog, around 60 miles south of the Arctic Circle, GKN was showcasing a number of its megatrend technologies at the Wintertest event in the bespoke proving ground, whose frozen lake and extensive off-road tracks put vehicles through their paces.
Many of the world's suppliers and OEMs such as Kia, Mando, ZF and Magna, are attracted to Arjeplog, whose tiny population of 2,500 swells to 40,000 plus during winter as teams of engineers spend weeks operating in the hostile environment.
GKN Automotive has a permanent facility in Arjeplog and runs several test courses featuring two circles of 100m and 250m, a vehicle dynamics pad of 1.5km, a 3km winding course, split hill and off-road tracks.
The Swedish facility adds to GKN's activities at Smithers Winter Test Centre in Brimley, Michigan and one in China.
The supplier has now delivered more than 1m eDrive units, including integrated 2-in-1 eMotor and transmission modular systems, such as the ERAD in the Volvo XC60 and XC90, as well as the new LEVC TX5 London taxi.
The company supports other OEMs with their evolving line-ups of electrified vehicles, including PSA and FCA brands.
Late in 2019, GKN Automotive launched the next phase in its electrification strategy. It is developing a range of 2-in-1 and 3-in-1 electric drive systems for pure electric and plug-in hybrid vehicles, to cover all mass-market torque requirements from 2,000 Nm to 5,800 Nm.