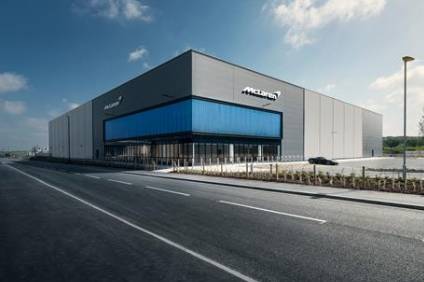 McLaren Automotive has opened its second production facility – the GBP50m McLaren Composites Technology Centre (MCTC) in Sheffield.
The MCTC aims to be a leader in innovating lightweight carbon fibre and composites that work together with future powertrain development to save weight and produce greater energy efficiencies.
The company claims the MCTC will help McLaren innovate quickly to deliver 18 lightest-in-class new models and derivatives as part of its Track25 business plan.
Prototyping has already begun on innovating McLaren's next generation of lightweight carbon fibre tubs that are integral to the agility and performance of its sportscars and supercars.
First announced in February 2017, construction commenced just five months later and following six months of fit-out, the MCTC is now the company's first purpose-built facility outside of the current McLaren campus in Surrey.
The in-sourcing of the manufacture of the carbon fibre chassis also increases the average percentage (by value) of a McLaren car sourced in the UK by around eight per cent from its current average of around 50 per cent, depending on model.
McLaren says that carbon fibre has long been a part of McLaren's DNA, the company having introduced the very first carbon fibre chassis into Formula 1 in 1981. Carbon fibre's innate strength and lightweight properties mean that the company has never made a race car, sportscar or supercar without it since.
After completing trial tubs in 2019 and once fully operational in 2020, the MCTC will create over 200 direct jobs and produce carbon fibre tubs that will be sent to the McLaren Production Centre (MPC) in Woking, Surrey, for hand assembly into cars, over 90 per cent of which are then exported to markets worldwide.
Built on a former open-cast coal mine, the opening of the 7,000m2 building set over four acres comes just seven years to the week after the launch of the MPC in Surrey. The MCTC was largely designed, constructed and fitted out by local contractors with the support of Sheffield City Council.