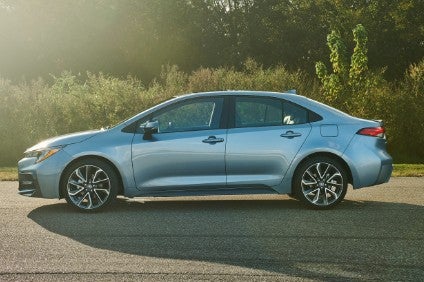 Mazda and Toyota have broken ground in Huntsville, Alabama, on their jointly owned and operated production plant that will have capacity for 300,000 vehicles a year from 2021.
A new company, Mazda Toyota Manufacturing, USA, (MTMUS) is expected to create 4,000 jobs, with a US$1.6bn investment shared by the two automakers.
The plant will build Toyota's just redesigned Corolla (the automaker's Blue Springs, Mississippi factory builds the outgoing model) – the 2020 North America specification model was unveiled last week in California, plus Mazda's yet-to-be revealed crossover model.
According to just-auto's Production Lifecycle database (PLDB), the third generation CX-5 could be that crossover (the announcement of which models the plant would build was made back in August 2017).
TMC having confirmed it would make the next Corolla at the shared factory, PLDB speculates the next CX-5 will use Toyota's TNGA architecture rather than a Mazda platform.
Toyota North America currently sells a Yaris sedan which is a rebadged 2 sedan Mazda produces on an OEM basis for Toyota in Mexico.
Production of Mazda models would mark the return of the brand to US manufacturing which ended several years ago with the dissolution of the alliance that ran the Flat Rock, Michigan plant, building Ford and Mazda models – such as the Probe/MX-6 – on shared platforms. Ford now operates that plant, building several models including the Mustang, on its own.
"We are proud to be here with Toyota, with whom we share the bond of pride in manufacturing," said Kiyotaka Shobuda, Mazda's senior managing executive officer at the groundbreaking ceremony.
"We are proud to be breaking ground on a new 'home' here in Huntsville – a city that believes in the possibilities of technology and manufacturing."
The automakers said their alliance would "assure competitiveness in manufacturing, allowing both automakers to respond quickly to market changes and helping to ensure sustainable growth toward the future of mobility".
"It is extremely special to have a partner like Mazda to team up with not only to make the highest quality cars, but also to create a plant that team members are proud to call their own," said Jim Lentz, chief executive officer, Toyota Motor North America.
"As we've seen at our Huntsville engine plant, Alabamians are a proud, talented, hard-working group. We are excited to continue our deep investment in the US and Alabama and see nothing but a bright future."
Alabama governor Kay Ivey said: "One thing I've learned with Toyota being in our state is that they care for the communities where they do business – it is, after all, their home, too. We are lucky to have Mazda Toyota expanding in Alabama."