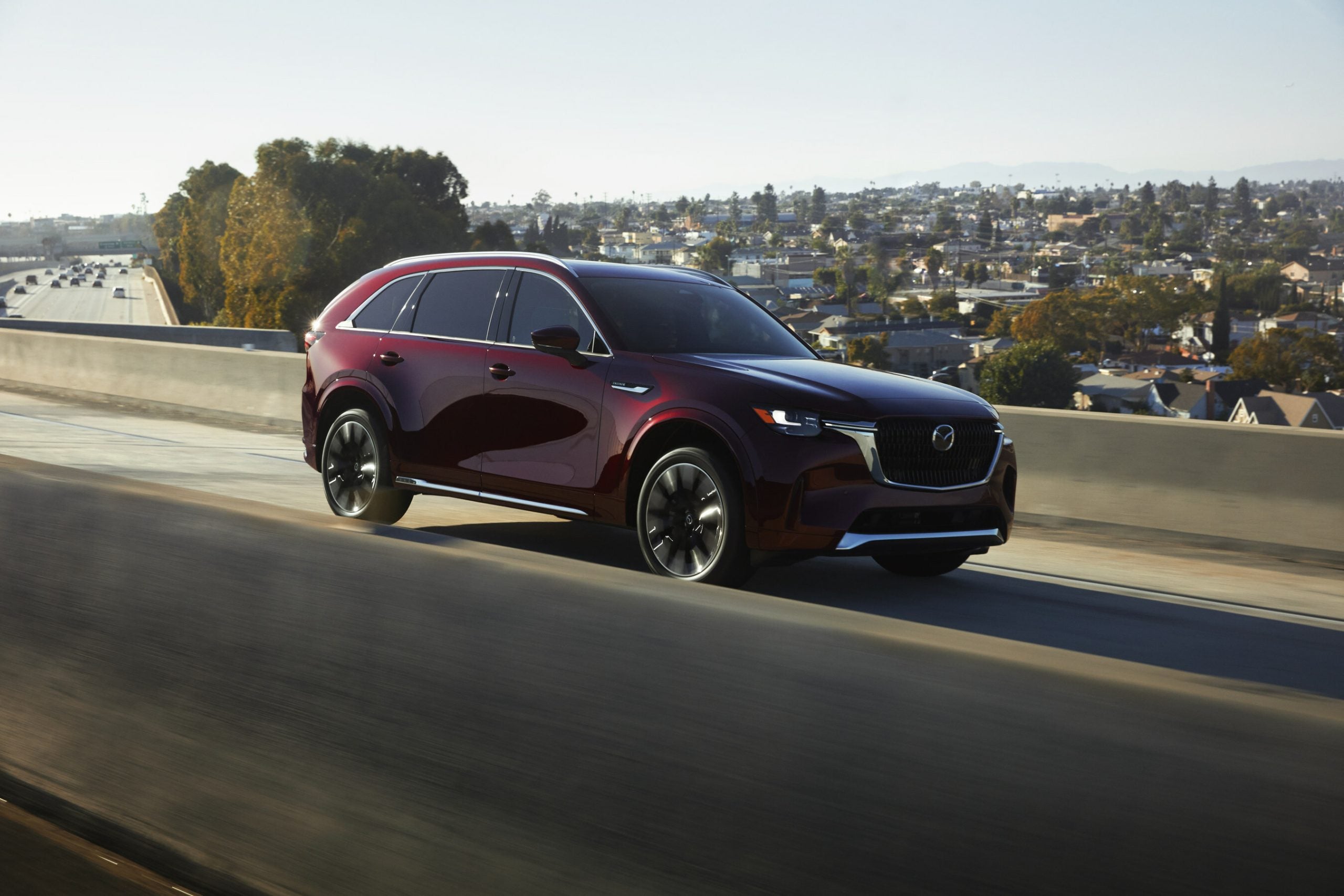 Mazda has launched the big, three row CX-90 SUV in North America, giving that market its first PHEV from the brand.
Built on a completely new large platform, the crossover is Mazda's new flagship, offered with new electrified powertrains.
The new model can seat up to eight passengers and, like the CX-60 PHEV recently launched in Europe (a new I6 diesel version is being added now) has a front engine, rear wheel bias longitudinal drivetrain. It has Kinematic Posture Control, which first debuted on the MX-5 Miata, a software feature that suppresses body lift on tight corners to enhance the grip and allows all occupants to maintain a natural posture.
Focus was put toward optimising rigidity across the entire vehicle body while designing seats and suspension to provide better balance, control, and confidence in a range of driving situations.
I-Activ all wheel drive is standard. Powertrains include a new e-Skyactiv G 3.3-litre I6 Turbo engine claimed to have the highest horsepower and torque from a mass production Mazda petrol engine with 340 horsepower and 369 lb ft of torque when using recommended premium fuel. This engine has M-Hybrid Boost (a mild-hybrid system) now used on many European Mazda models as well. The electric motor is placed between the engine and transmission, allowing the motor to directly power the CX-90 at low speed.
The new e-Skyactiv PHEV powertrain, tuned specifically for North America, provides 323 horsepower and 369 lb ft of torque on premium fuel and is designed to operate purely on the electric motor in a variety of driving scenarios. Like the CX-60, it has a 2.5 litre I4, with a tuned intake to improve torque, adapted to work alongside the electric motor and 17.8 kWh high capacity battery.
Like CX-60, all CX-90 powertrains are paired with a new eight speed automatic transmission, specifically designed for the electrified longitudinal powertrains and large platform vehicles. The multi-speed automatic gearbox, without a torque converter, achieves smooth and direct acceleration while improving drivetrain efficiency.
Options include third row USB-C charging ports, air conditioning vents, and upgraded interior lighting.
Standard i-Activsense safety features include Smart Brake Support, Blind Spot Monitoring, and Radar Cruise Control.
New options include See-Through View monitor to assist in a variety of parking situations.