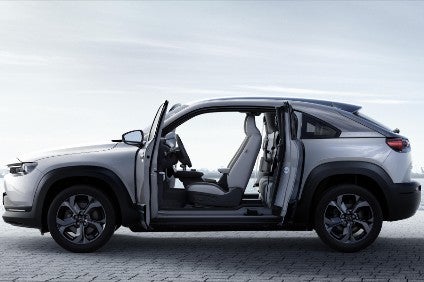 The first series production electric Mazda has rolled off the line at the company's Ujina #1 factory in Japan.
The MX-30 is mainly for the home market and certain countries in Europe, the maximum range of 200 km reportedly being seen as inadequate for North America.
This small crossover has strong links to the CX-30, while a third derivative which will have a Wankel engine as a range extender, is expected to be formally announced soon. The name of that model is not yet known but RX-30 is one possibility.
Even though it looks a lot like the CX-30, one distinctive feature of the new MX-30 is 'freestyle' rear doors. These open in the same way as those on the BMW i3 and Mazda's own RX-8.
The car's relatively small 35.5 kWh Panasonic battery pack is the main reason why the overall weight is under 1,800 kg. Outputs from the single motor are 105 kW (145 PS) and 265Nm.
Cars for left-hand drive EU and EFTA countries are due on sale in October. The UK, another likely major European market aside from Norway, The Netherlands and France, will receive its first MX-30s in the first quarter of next year.
As per American Honda's decision not to request the similarly limited range e small electric car from its Japanese parent, Mazda Motor USA might be waiting on a potentially larger, longer range EV later in the 2020s. Equally, Mazda has said nothing about the MX-30 and the Chinese market. That likely means there will indeed be at least one other, longer range electric vehicle for countries where circa-200km of range may prove to be problematic.