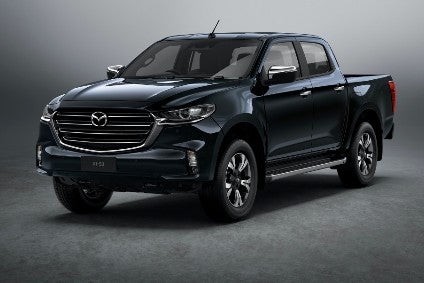 The second generation BT-50 has been announced. While the front end is unique, much else is shared with the model upon which it is based, Isuzu manufacturing both its own D-Max and the new Mazda pick-up in the same Thai factory.
Mazda stated in July 2016 that Isuzu would supply its next generation pick-up, replacing the Ford Ranger-based predecessor. There was a further twist in this story later that month when the truck maker announced to the media that its collaboration with GM on the development of midsize pick-up trucks made in Thailand had ceased.
The supply deal with was said to last for 10 years commencing in 2021 but the truck itself was revealed online earlier on 17 June and will go on sale in a few months' time. The first engine to be announced is Isuzu's 2,999 cc V6 diesel. This has outputs of 140 kW (190 PS) and 450 Nm (332 lb ft).
The 5,280 mm long BT-50 has an identical 3,125 mm wheelbase to that of the Isuzu D-Max and is to come down the same line at Isuzu's IMCT Gateway plant.
Mazda says the main markets will be in Oceania, ASEAN, Central and South America, the Middle East and Africa. Australia is singled out by the company as a country where the new BT-50 should do particularly well.