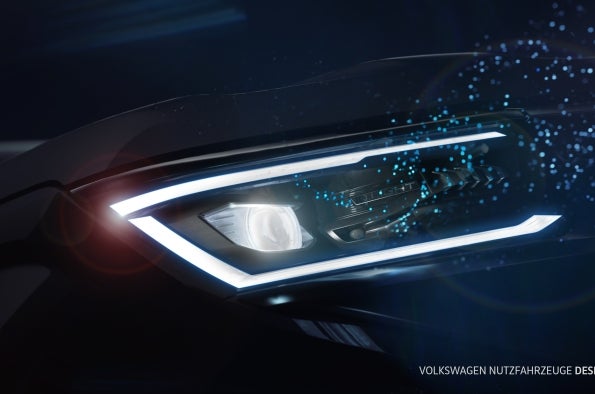 Volkswagen Commercial Vehicles' new premium pickup, the Amarok will have LED headlights as standard. As an option and on the higher specification versions of the pickup there is also the so-called 'IQ.Light' – its LED matrix headlights also show a high-impact light graphic.
Features also include an active (i.e., automatically) dipping full beam whenever there is oncoming traffic, street lighting or traffic lights, and the static cornering lights, which light corners up better in the direction of travel. This ensures greater comfort and safety, VW says.
Albert Kirzinger, Head of the Design Team at Volkswagen Commercial Vehicles says: "With its high-tech lights, the new Amarok will already be recognisable as a genuine VW a long way off and at the same time will display a unique light signature."
The 'IQ.Light' LED matrix headlights underline the high- tech look of the new Amarok, VW maintains.
Over 830,000 units of the Amarok have been sold to date in Europe, South America, South Africa and Oceania.
The new Amarok will launch as of the end of 2022 in the first few countries with double cab and four doors (DoubleCab), and in some individual markets with a two- door single cab (SingleCab).