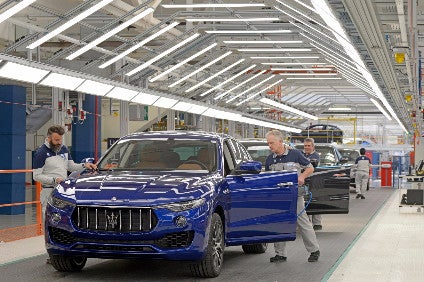 Maserati will double production of its latest model, the Levante, from Monday 30 May 2016 with the new production line built specially for the new SUV switching to two production shifts a day.
The model was launched at the Geneva Motor Show last March and Maserati claims to be enjoying unprecedented interest in the Levante. From Monday, over 1,200 people will be working on the new line, including 550 new workers who start following extensive training in the unique construction and personalisation techniques and technology employed to produce the Levante.
Maserati has also confirmed that additional workers will be employed in the middle of the year to further boost production as the Levante is launched in more markets.
The new line is within FCA's Mirafiori plant in Turin which has been producing cars since 1939. Mirafiori is now also home to FCA Group's research and development centre. It joined the Grugliasco factory, also in Turin, and the historic production line in Maserati's home city, Modena, in producing Maseratis.
The line for the Levante uses the latest computer control, robot welding and assembly and paint application technology while also employing unique traditional handcrafted skills to provide the personalisation and exclusive leather and silk interiors for which Maserati is world famous.