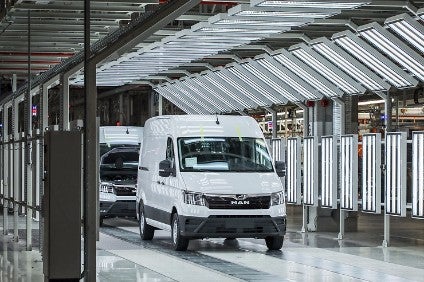 The first production MAN TGE – a variation of VW group sibling Volkswagen Vans' Crafter – has come off the line at a newly constructed plant in Wrzesnia, Poland.
The launch of the TGE marks the start of a new era for MAN Truck and Bus as it is the first time it has marketed a light commercial vehicle, and is a response to demand from many long-standing customers in the logistics, courier and parcel service, after-sales and trades sectors.
The main reasons for the increasing use of large vans are the expansion of online shopping, harmonised driving licence regulations, the wide-ranging versatility of the vehicles and their car-like handling and performance. Increasing urbanisation, especially, is driving demand for a broad range from three tonnes gross vehicle weight rating upwards.
"Our recently established plant in Wrzesnia is setting new quality standards. The vehicles undergo a wide range of quality checks. The dimensional stability of the body shell itself is repeatedly checked during the assembly process by automated lasers and digital cameras on multiple geometric stations. I am therefore delighted to be supplying the MAN brand with a model of such high value added as this first TGE," said Jens Ocksen (CEO of Volkswagen Poznan. Dennis Affeld, head of MAN van sales, said: "We are looking forward to combining the high-quality production standards of the TGE with MAN's professional sales and service network. We have no doubt our customers will love it. We plan to sell about 20,000 vehicles a year."
The vehicle with VIN number 1 is silver with a short wheelbase and high roof. The high-roof MAN TGE is around six metres long with a load capacity of 10.7 cubic metres. The van – in weight rating variants up to 3.5 tonnes – is powered by a 1968 cm3 capacity diesel engine developing 103 kW/140 hp.