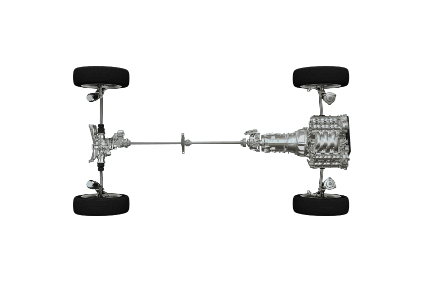 Magna says the increasing availability of alternative energy sources coupled with a gradually fall in battery prices, could help to drive a rapid increase in the uptake of electric vehicles.
One OEM recently forecast as much as 25% of its business could come from alternative powertrains by 2025, with Magna poised to ride the wave of popular enthusiasm for the technology.
The Canadian supplier made its EV comments at its annual Winter Test this week in the pristine conditions of the Arjeplog track in Northern Sweden just south of the Arctic Circle, where it showcased technology on vehicles such as the BMW X3 with Magna Powertrain Ecomax using semi-dry architecture and the Flex4 Fast Reconnection.
Among a plethora of technologies on display, were also the Alfa Romeo Giulia Veloce with Magna's Actimax Transfer Case and the VW Golf R with Flex4-Twin Rear Drive System.
In terms of Getrag technology, Magna equally highlighted in Arjeplog its 7DCT300 dual clutch transmission on the Renault Mégane IV, combining low-loss layshaft transmission systems with third generation electro-mechanic on-demand actuation.
"A lithium ion battery must be produced and where does the energy come from?" Magna product manager emobility powertrain, Werner Ness, told just-auto on the sidelines of the component manufacturer's Swedish Test.
"It is a system of power generation from renewals…which must be built up. It makes no sense to burn coal and oil and then bring it to the battery. Solar and wind [power] is getting cheaper and cheaper."
"There are several enablers for electric mobility – you have [to have] market readiness [and] environmental consciousness."
The emobility production manager warmed to the possibility of 25% of global sales being EV-oriented by 2025, citing China and Europe as regions where infrastructure was becoming increasingly advanced.
"In the US [however], it is not the real enabler at the moment because gasoline prices are down. If you have to power a truck which is 2.7t, the battery is of course very heavy and this is something where costs are very high."
Despite that, Ness noted battery prices were falling, with the drop in cost continuing to increase in pace, while advances in chemistry were also helping.
"We have no unique power generation on earth," added the emobility product manager. "It is a topic where it is heavily discussed forwards and backwards.
Magna's Winter Test consists of an intensive two-week period where it demonstrates the technology to customers in some of the remotest parts of Northern Sweden.