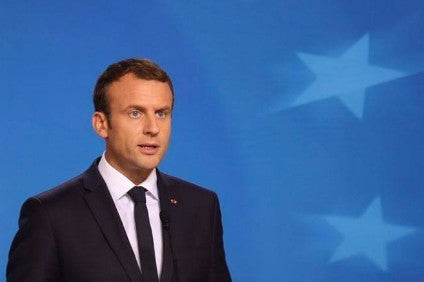 French President, Emmanuel Macron has hailed efforts by Valeo to cope with the coronavirus crisis as the supplier looks to gradually resume operations in an environment the Head of State said had not been seen since wartime.
Macron made his comments at Valeo's Etaples 48V plant in northern France and as he outlined a mammoth EUR8bn (US$8.8bn) support package for France's auto sector, which saw sales plummet 84% in April as consumer confidence evaporated.
Late last month, Valeo inked a majority Group-wide agreement with the CFE-CGC, CFDT and FO labour organisations, with the goal of ensuring protection for employees and allowing manufacturing to be slowly rebooted.
"I would really like to congratulate Valeo for all they work undertaken during these difficult weeks," said Macron at the Etaples factory. "You had to put lockdown measures in place for health reasons, to put in place health protocols so work can carry on at this site with many substantial constraints and I thank you.
"The worldwide car market is going through a deep crisis. The [French] sector has seen a drop in activity of more than 84%; it is unprecedented outside wartime. Dealerships have closed, French people have stopped buying and car sales have plunged. We will have sold around 500,000 fewer cars at the end of June compared to the previous year.
"This has never been seen for the sector which represents 16% of turnover of our industry, 4,000 business and nearly 400,000 jobs. A sector which also embodies the genius of our nation. Our country would not be the same without these great brands; Renault, Peugeot, Citroen…and the entirety of the suppliers which make these great brands possible.
"To be here at the Valeo site, we have the perfect example of a business, which in the last ten years, has known how to diversify very deeply its range of clients around the world, by reinforcing its industrial footprint in France.
"The challenge of the French car industry is a challenge of French identity. It is a challenge for jobs. The automotive sector has benefited from emergency measures put in place – as I said to our fellow citizens at the start of March: 'Whatever it costs.'"
The President's EUR8bn cheque, destined for investment, support and loans, appears to come with a hint France will push strongly for relocalisation of manufacture, a move sure to please unions.
Valeo has instituted what it terms a Solidarity Fund to compensate non-managerial staff currently subject to part-time working arrangements for lost pay and, more generally, to limit the use of part-time working arrangements for all categories of staff.
To constitute the fund, all managerial staff in France are contributing one day's annual leave and a call has been launched for all employees to donate some of their annual leave in the same spirit of solidarity.
Valeo has also set up donations to the Fondation de France, to support French hospitals and research programmes focusing on the fight against COVID-19.