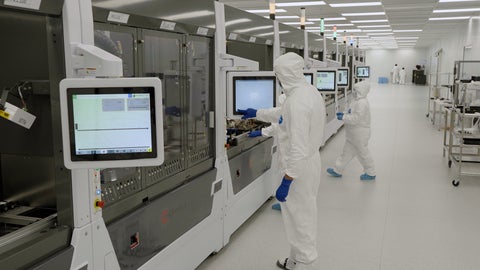 Luminar has announced the successful build-out of a new highly automated, high-volume manufacturing facility in Monterrey, Mexico.
The first Luminar Iris sensors out of this new dedicated facility are beginning to ship to Luminar's lead global high-volume series production customer in preparation for start of production by end of this year to support vehicle launches.
"Industrialization is the fundamental challenge to enable and scale with our high volume series production wins. The successful bring-up of the automated factory is a major milestone and continues to show we can execute," said Austin Russell, Founder and CEO of Luminar. "This enables an increase in capacity by well over an order of magnitude as compared to our existing, manual line to meet our growing automaker requirements on volume."
The new dedicated facility for high-volume production of Luminar's sensors is operated by Celestica, a leader in design, manufacturing, and supply chain solutions. The new facility measures 118,000 square feet and will have initial capacity for up to 250,000 sensors per year, expandable to approximately 500,000 sensors per year. The facility features 40,000 square feet of cleanroom space that meets International Organization for Standardization (ISO) specifications.
Celestica is also in the process of building an additional 200,000 square feet extension to the dedicated facility for Luminar, which will enable testing for performance and quality and will provide the flexibility for future capacity expansion into the millions of sensors annually.
Construction of the dedicated facility began in July of 2022 and high volume line installation began in December of last year. The company brought this new high volume line online in conjunction with Celestica at the end of Q1, ahead of prior guidance provided at Luminar day for a Q2 start, which was a pull-ahead from the company's original second half of 2023 timeline. The new facility is now scheduled to complete a rigorous validation process throughout the second half of 2023 to meet automakers' standards and requirements for large-scale, global vehicle launches. Celestica also operates an existing low-volume production line for Luminar in a separate facility in Monterrey, Mexico.
Luminar has established a global manufacturing footprint that spans the United States, Mexico and Thailand. The company is actively planning ahead to ensure future capacity to support next generation products and capitalize on continuous improvements in the design for manufacturability of its sensors. Luminar expects to establish the next phase of its capacity installation in the Asia Pacific region, and will report continued progress during its first-quarter business update on May 9, 2023.
Rupayan Chakraborty, Automotive Analyst at GlobalData, a leading data and analytics company, offers his view:
"Luminar Technologies is constantly designing and developing solutions for advanced driver assistance systems (ADAS). The conpany's ultra-sensitive pixel-based sensors measure distance using laser light to generate a 3D map, which helps the drivers in navigation and safety.
"The demand for automotive sensors is growing as advanced driver assistance technologies become increasingly used in the automotive industry. Also, the sensor business is being driven by the increasing need for advanced security features and technology in fleet management, such as real-time monitoring, tracking, and navigation systems.
"According to GlobalData estimates, 13.5 million units of sensors were sold globally in 2022, recording an annual growth rate of 10%. Additionally, the industry is anticipated to post sales of 17.6 million units by 2026, registering a compound annual growth rate (CAGR) of 7.46% over 2022-2026. Also, the market in North America, which is estimated at 2.4 million units in 2022, is expected to witness sales of 4.3 million units by 2036, growing at a CAGR of 4%. In 2021, Continental and Magna dominated the sector, each with a 12% market share in the global market for sensing cameras.
"Considering the market potential of North America and the growing global demand for sensors, the new facility will boost the capabilities of Luminar in order to challenge the dominance of Continental and Magna in the long run."