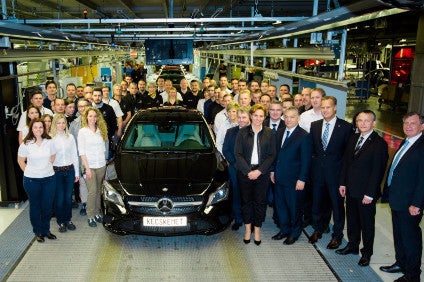 Reports of a growing labour shortage in eastern Europe have been reinforced by similar claims from Audi and Daimler of a worker shortfall in Hungary.
Automaker executives told Reuters improve worker mobility and local infrastructure were needed after years of emigration to western Europe created labour shortages in bordering countries Hungary, Poland and the Czech Republic, making it hard for businesses of all kinds to recruit.
The report noted the car sector alone employs over 100,000 people and accounts for over a 10th of Hungarian exports. MAGE, a local trade group, told Reuters factories in Hungary, dominated by big western brands, produced over half a million cars last year.
Audi has spent EUR8.5bn on its Hungarian plant in Gyor while Daimler announced in July a EUR1bn expansion of its Mercedes factory in Kecskemet where it expects to start production in 2020.
"There are some reasons for concern," Audi Hungaria managing director Peter Koessler told an automotive conference, Reuters reported. "If we think of human capital, we see problems in the necessary quantity as well as finding sufficiently skilled colleagues."
Audi, which produced over 2m engines and 160,000 cars in Hungary last year, sponsors local university faculties to ensure its hiring needs are met, the report noted.
Koessler said Hungary should focus efforts on improving housing conditions and local infrastructure to boost worker mobility and ensure a sufficient future labour supply.
"These are big challenges. If we manage to solve them, there are nice prospects for the future development of the Hungarian car industry. But there is work to be done," he said.
Mercedes-Benz Manufacturing Hungary chief executive Christian Wolff said Daimler's decision to expand in Hungary, which will create 2,500 jobs, was a reflection of a good local investment environment, but he also cited difficulties.
"The labour situation will definitely pose a challenge for the future," Wolff said. "We need to work hand in hand with the government and local authorities."
He said competitive wages were just a start. Daimler also had to invest in local education and provide facilities such as a kindergarten and housing for workers in Kecskemet.
He cautioned Hungarian companies should avoid being sucked into a wage hike spiral in an effort to catch up to western pay levels quickly as that would damage Hungary's competitiveness.
Data published earlier on Wednesday showed Hungarian gross wages rising by 6.9% in August at a time of no inflation.