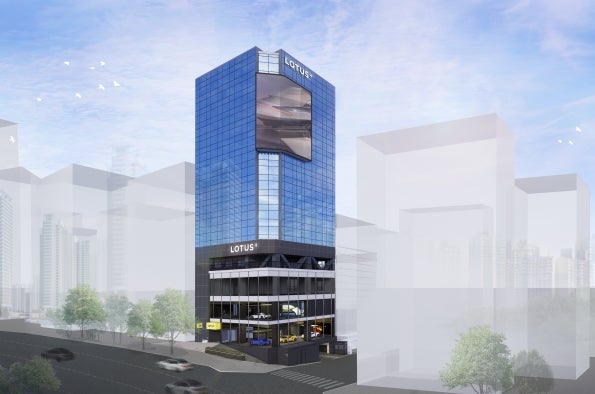 The Geely-owned Lotus sports car brand has relaunched in South Korea and signed a new distribution partnership with local retailer Kolon Mobility Group (KMG).
KMG has become the official importer and sole distributor of Lotus in South Korea.
The first visible expression of the collaboration is a new 'Lotus Brand Centre' in Seoul. With construction scheduled to start shortly, it will open in Q4 2023 in the district of Gangnam, home to many modern luxury stores and boutique hotels. The building will showcase Lotus' performance car range in a setting over three lower floors.
KMG is launching its business with two Lotus models – the Emira and Eletre.
The all-electric Lotus Eletre is described by Lotus as a 'progressive and striking hyper-SUV'.
The Brand Centre in Seoul will be complemented by an official 'one-stop shop' Lotus Service Centre, to be established in Ilsandong-gu, Goyang-si. It will also open to customers in Q4 2023.
Mike Johnstone, Group Vice-President and Chief Commercial Officer, Lotus, said: "We're delighted to be relaunching in South Korea, and doing so with such a renowned and respected partner as Kolon Mobility Group. With premium Lotus performance cars such as the Eletre, Emira and others on the horizon, we are looking forward to engaging with a new audience and new customers in South Korea."
Lotus says new partner KMG is well-known as an official retailer for other luxury and premium automotive brands, a portfolio which is further enhanced with the addition of Lotus.
Lee Kyu-ho, CEO, KMG, said: "We are delighted to be the new partner for Lotus in South Korea. It is an iconic brand which is undergoing an amazing global transformation, and we are looking forward to welcoming customers and fans into our wonderful new Brand Centre. In collaborating with Lotus, we continue to dedicate every effort to present a wide range of mobility experiences to our customers."
The first Lotus cars will arrive in Q1 2024 and Q3 2024 for Emira and Eletre customers respectively.
Lotus said South Korea is a key conquest market for Lotus in the region. Mike Johnstone added: "Lotus has a long-established and loyal group of customers and fans in Asia-Pacific markets. We are relaunching the brand in South Korea with a new product line-up and strategy, and are confident it will become one of the largest markets in Asia for Lotus, outside of China, as the business continues its global expansion."
Lotus already has strong relationships with long-term partners in many other local markets. In those where it does not, particularly Vietnam and Indonesia, it says 'development work is progressing rapidly'.
Dan Balmer, Regional Director for APAC, Middle East and Africa, Lotus, said: "We are developing both current and new partners, and exciting opportunities in other new markets, to scale up for the arrival of the Eletre and the new models beyond."
He added: "Since the launch of Eletre, we have received strong interest from all markets in the region, and we're already working with those local partners in finalising the launch plans for them. We will confirm those plans in due course."