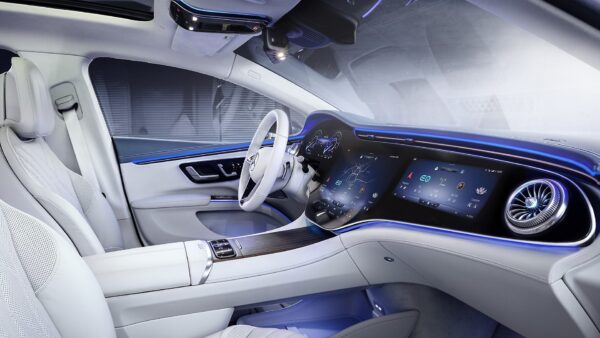 LG Electronics' (LG) newest premium in-vehicle infotainment (IVI) system features in Daimler's 2022 Mercedes-Benz EQS EV sedan, the pillar to pillar (P2P) display built into the MBUX hyperscreen which stretches across the entire width of the dashboard.
First introduced by Mercedes at CES 2021, the MBUX Hyperscreen consists of three screens including LCD display, ICD (instrument cluster display) and two OLED displays, CID (central information display) and CDD (co-driver display) under a bonded glass cover to give the appearance of a single, continuous display.
The use of plastic OLED (P-OLED) display technology enables the infotainment system to deliver clear, sharp images and text plus slim bezels with physical control knobs  and buttons replaced by an intuitive touch interface with refined haptics "for a user experience (UX) with minimal learning curve", according to the supplier.
LG's IVI system was specifically designed for the new sedan. The in-house Production Engineering Research Institute, tasked with providing in-house expertise for equipment and material components as well as advanced production techniques, developed the core technology implemented in the display: curved glass forming, surface treatment and curved display bonding.
The companies claim the display both "raises the bar for ease-of-use but also safety, featuring new technologies that perform well above minimum standards for head-on and collisions".