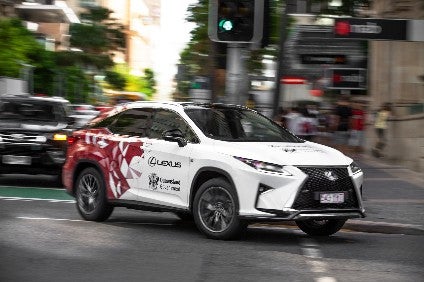 Lexus Australia said it had become the first vehicle brand to partner with the Queensland government in a trial of advanced technologies designed to improve road safety and reduce congestion, fuel consumption and emissions.
Two of the automaker's specially equipped RX 450h F Sport SUVs would be fitted with sensitive equipment that would enable them to communicate with each other and with roadside infrastructure such as traffic lights, as part of a two year trial.
The study into cooperative intelligent transport systems (C-ITS) technologies would involve the two vehicles providing drivers with early warnings, including visual and audible alerts, covering a wide range of road and traffic conditions.
Warnings would include alerting drivers to road hazards or the existence of a crash ahead, as well as information that vulnerable road users such as pedestrians or cyclists are at a connected intersection.
Information would be shared between vehicles and infrastructure using dedicated short-range communications (DSRC) technology which transmits safety information using radio waves.
Lexus Australia chief executive Scott Thompson said the C-ITS project would generate valuable data that would eventually benefit all road users.
"Our local engineering team, working closely with the Queensland government, will assess the effectiveness of intelligent transport systems while expanding our understanding of driver acceptance of these technologies," Thompson said.
He reiterated the brand's global commitment to reduce traffic fatalities and CO2 emissions to zero.
Queensland transport and main roads minister Mark Bailey said working with the automaker would provide the opportunity to demonstrate to road users the safety related benefits of cooperative and connected vehicle technologies.
"These vehicles, which will connect to each other and to infrastructure, will also be capable of recording data and visual information for the purpose of evaluating the effectiveness of the trial, understanding user acceptance of the technology, and identifying problems."
"Lexus Australia will be utilising the Ipswich Connected Vehicle Pilot test bed and the Mount Cotton Driver Training Centre for the tests which will occur over 2019 and 2020," Bailey added.
The Australian specification RX 450 F Sport includes a forward collision-warning system with audible and visual alerts, autonomous emergency braking and automated lane-keeping.
Additional vehicle-to-vehicle and vehicle to infrastructure technologies to be added to the two vehicles are:
• Emergency electronic brake light: Alerts drivers to a cooperative vehicle that is braking hard some distance ahead.
• Slow/stopped vehicle: Warns the driver when a vehicle ahead is stopped or travelling slower, and there is a risk of rear-end collision.
• Advanced red-light warning: Alerts drivers that they likely to violate the red light unless they apply the brakes.
• Turn warning – vulnerable road user: Alerts drivers that a pedestrian or cyclist has pushed a signal call button and are crossing during the permitted phase.
• Road hazard warning: Alerts drivers to hazards, such as debris or water on the road, or a crash.
• Back-of-queue warning: Alerts drivers to a downstream queue on motorways using the Managed Motorways automated back-of-queue algorithm.
• In-vehicle speed warning: Provides drivers with information about active, static or variable speed limits.
• Road works warning: Notifies drivers approaching or driving through roadworks zones, providing speed information and alerting them if they are exceeding roadworks speed limits.