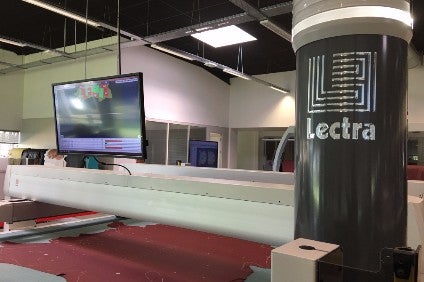 Leather cutting machine specialist Lectra said it had completed its next three year road map in order to drive Industry 4.0 concepts which are increasingly becoming the norm for manufacturing.
The Bordeaux-based maker of cutting machines for the automotive, fashion and apparel industries, is able to deploy some 200 business consultants, solutions experts and project managers to assist its customers as Industry 4.0 starts to take hold worldwide, connecting data with machines.
"For 40 years, what we have been trying to achieve is supporting companies to achieve goals to reach profitability," said Lectra chief marketing officer, Celine Chousset-Bedouet at the company's Bordeaux headquarters in south west France. "What we want to be seen as is a partner.
"We go beyond equipment – what we really want to do is create value for our customers. We just closed a three year plan and have been thinking of our next road map – it is all about empowering our customers to enter the Fourth Industrial Revolution. We spent around two years refining our strategy for the next three years and this will have an impact in the next decades."
The Lectra CMO also outlined some of the thinking behind that shift to 4.0, highlighting several key factors which are currently making up megatrends in manufacturing, such as the advent of millennial buying power and digitalisation.
"Millennials will transform the global economy – they are the largest working generation in history," noted Chousset-Bedouet. "It is important because these people have very different ways to consume, to work, to think, to behave. They were born with smart phones, iPads, tablets, PCs etc, they are very well connected.
"They don't want the same thing as anyone else, they expect quality, they don't want to get something cheap. [As for] digitalisation, the internet of things, cloud, mobility, virtual reality, AI, what is key is data. All the data we can collect, store and analyse are really key essential pillars of digitalisation. The data we collect, we can rethink our business models.
"Industry 4.0 will have a dramatic impact on organisations and on the way we produce worldwide – this has already started especially in automotive. With digitalisation we will be able to connect different product lines, different services. We will be able to have real time connection and see things we couldn't see before.
"With factories at the core of 4.0 we will shift from mass production to a model we call mass customisation – what the customer wants is to get more personalised products."
Chousset-Bedouet also emphasised the importance of China forming a major plank of current megatrends with the mindset of Beijing slowly changing as it looks to establish its 'Made in China 2025' policy.
"I was in China [recently] – everybody was behind this initiative – it demonstrates clear ambition," added Chousset-Bedouet. "How can I move from a low cost country to a high value country and production model.
"Another important thing is sustainability to the Chinese government – [it] is part of the Made in China 2025 project. The country represents a huge opportunity in terms of consumption.
"Companies will have to accelerate their adoption of new technologies in order to be able to face new customer demands, new challenges."
Employing 1,550 staff, Lectra booked EUR260m (US$280m) revenue last year, reinvesting 9% in R&D.
The machine manufacturer has 23,000 customers and 33 subsidiaries.