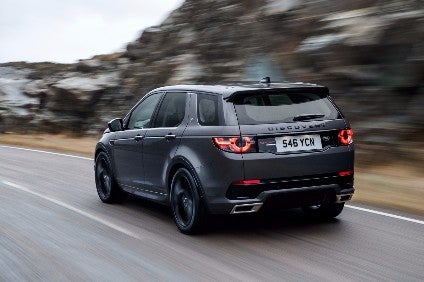 Tata Motors' Jaguar Land Rover has announced new 2018 model year Land Rover Discovery Sport and Range Rover Evoque models with the new, UK-made, two litre four-cylinder Ingenium petrol engines and a new 240PS diesel that are also filtering into the Jaguar line.
Both models are the first of the Land Rover line to get the Ingenium petrol engines.
"The new additions support the company's long-term commitment to reduce vehicle emissions and improve fuel economy across its range through the introduction of more efficient engines," JLR said in a statement.
The 290PS Si4 Ingenium petrol is the most powerful engine ever offered on either model, and will come with a dynamic body kit as standard
2018MY Evoque
While Jaguar gets 200PS, 250PS and, soon, 300 PS versions, Land Rover is specifying a 240PS petrol engine for all body styles which is 15% more efficient than the previous GTDi engine. Low friction technology helps deliver real world benefits with CO2 emissions of 165g/km and fuel economy of up to 7.3 litres/100km (38.7mpg).
The 290PS version accelerates from 0-100km/h in 6.3 seconds (0-60mph in 6 seconds) and on to a top speed of 231km/h (144mph).
The front-wheel-drive eCapability 150PS diesel Evoque continues to be available, delivering 109g/km of CO2 (on the combined cycle) and 67.3mpg (4.2 l/100km) fuel economy.
The 290PS petrol models will have the Dynamic exterior pack, comprising enlarged front and rear bumpers, gloss black finishes for the grille, vents and 20 inch, five split-spoke alloy wheels.
Paint colour choices have been revamped with Phoenix Orange becoming unique to the Evoque convertible.
The Evoque is also now offered with new sports seats with perforated and distinctive horizontally-ribbed inserts.
The most personalised vehicle in the range, the convertible can now be ordered with a Lunar/Ivory interior (SE Dynamic models) in addition to Ebony.
Discovery Sport
JLR said the Discovery Sport is currently its fastest-selling vehicle, with over 200,000 sold globally since its introduction in 2014.
The 240PS petrol engine produces maximum torque of 340Nm and offers up to 8l/100km (35.3mpg) and 181g/km CO2 on the European combined cycle. The 290PS petrol variant can accelerate from 0-100km/h in 6.7 seconds.
Technologies include an integrated exhaust manifold, 2000bar direct injection system and twin-scroll turbocharger for responsiveness and efficiency.
The engines feature electrohydraulic control of the inlet valves. This enables variable valve lift, so load control is managed primarily by the intake valves rather than the throttle. This reduces pumping losses and provides flexibility and control over airflow into the combustion chambers, improving power and torque while increasing fuel efficiency and reducing emissions.
The 290PS engine replaces traditional journal bearings with turbo ball bearing cartridges claimed to provide significant performance improvements to the turbocharger, including transient response and better efficiency.
The twin-scroll diesel Ingenium engine provides the best blend of power and fuel economy. The 0-100km/h sprint is completed in 7.5 seconds thanks to the 240PS and 500Nm outputs, yet it returns 6.4l/100km (44.1mpg) and 169g/km of CO2 on the combined cycle.
Customers will still be able to buy the 150PS Ingenium diesel with a manual transmission (in 2WD), which delivers CO2 of just 123g/km on the EU combined cycle. In Europe and the UK, these models are known as eCapability models and are identified by a blue Sport badge.
Ingenium petrol 290PS versions will have the Dynamic exterior pack as standard with front bumpers with larger air intakes to improve engine cooling and give a more purposeful look. Gloss black front grille and side vents, and 20 inch, five split-spoke Style 511 alloys are included.
Paint colours have been revised with optional contrast roof available in grey or black and a new tan interior has been introduced, closely matching that of the just-redesigned, larger Discovery.
Seats have changes to their foam composition for improved comfort. All powered seats are upgraded to include four-way lumbar support (up from two-way) and 12-way configuration is optional.