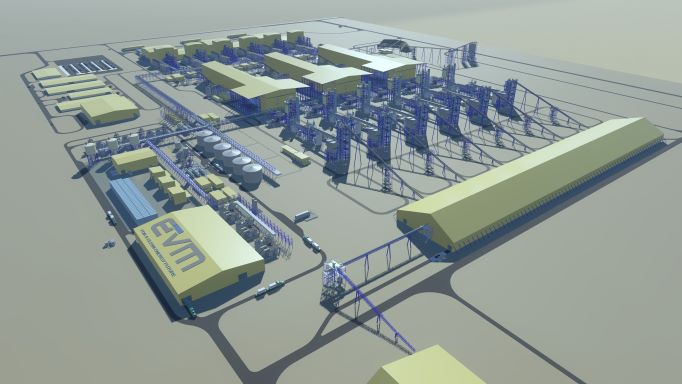 EV Metals Arabia Company for Industry (EVM Arabia), a subsidiary of EV Metals Group, a global battery materials and technology company, said agreements had been signed for the allocation of 127 hectares of land from The Royal Commission at Yanbu and a gas and power allocation from the Saudi Arabian Ministry of Energy.
This will allow development of EVM's battery chemicals complex to position the kingdom as a global midstream hub for the production of high purity chemicals required by electric vehicle and battery cell manufacturers.
It followed the grant of an environmental permit to construct by the Royal Commission at Yanbu effective from 2 January 2023, for which a contract will be awarded later this year.
The gas allocation is equivalent to a daily standard amount of 6,240,000 cubic feet which will be used for the first two processing trains to produce high purity lithium hydroxide monohydrate, with construction scheduled to commence in Q3 this year.
The complex comprises staged development and expansion of lithium and nickel chemicals plants. Commissioning of the first two trains of lithium will commence in 2026 and ramp to an annual production capacity of 50,000 tpa. This will be followed by an additional four trains, taking total production up to 150,000 tpa.
The complex will process intermediate feedstock of critical raw materials from Western Australia to produce high purity chemicals containing lithium, nickel, cobalt, manganese and other metals for downstream production of cathode active materials.
"Our complex is strategically located to serve demand for high purity chemicals from electric vehicle and battery cell manufacturers both locally, and from target markets in Europe and North America looking for stable and transparent supply chains," said Michael Naylor, chairman of EVM Arabia and managing director and CEO of EVM Group.
In 2023, EVM will accelerate exploration of critical minerals in the kingdom through its subsidiary RIWAQ Al Mawarid for Mining to develop a localised Saudi supply chain for the complex.
RIWAQ has been granted 11 exploration licences covering 1,093 square kilometres and has 142 applications for exploration licences with an area of 11,350 square kilometres in process, which have identified or potential for critical minerals containing lithium, nickel, cobalt, copper, platinum group metals and rare earth elements.