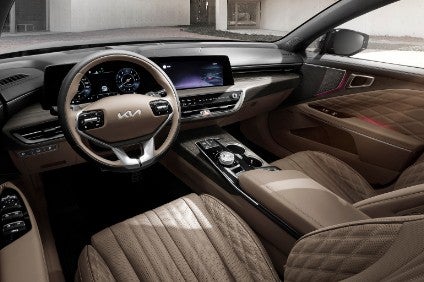 Meridian Audio has won an OEM supply order from Kia Corporation for a purpose-designed 14-speaker surround sound system for the new K8 sedan.
The audio system features the British supplier's proprietary DSP technology.
CEO John Buchanan said: "Meridian worked very closely with Kia's development teams to create a tailored audio system for the K8 which provides driver and passengers with a truly immersive, captivating listening experience."
The car has Horizon, an upmixing technology which provides multi-channel audio from two-channel stereo content, as well as centre image and ambience level controls for the user plus lntelli-Q Data-Driven Equalisation optimises audio playback within the cabin based on data available from the vehicle.
Digital Precision ensures all the finest details and emotions of the performance are delivered, regardless of the format used, and RE-Q Cabin Correction technology removes unwanted cabin resonances, preserving the natural rhythm and timing of the performance.
Byungchul Cho, Kia's product planning chief, said: "Every element of the K8 interior has been designed with high-end luxury in mind, and this collaboration provides a very special, British premium sound experience to our customers."