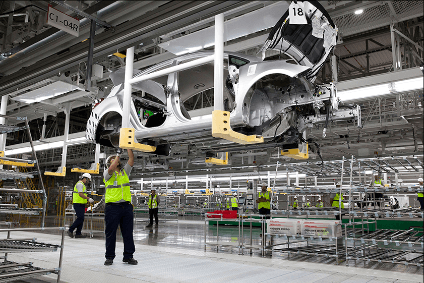 Kia Motors has announced the completion of construction on its first manufacturing plant in Latin America located in the municipality of Pesquería in the state of Nuevo León, Mexico. The construction took just 13 months.
With an initial investment of approximately US$3 billion into the project by Kia Motors and suppliers, the plant was constructed in a mere 13 months after breaking ground on the site in October 2014, the fastest construction completion of any manufacturing facility in Kia's history. Kia also says it has commenced full-fledged retail sales operations in Mexico and has opened 46 dealerships across the country in the last five months.
Mass production of the Forte model (also known as 'Cerato' in some markets) compact sedan is scheduled to commence in mid-2016. The 300,000-unit annual capacity plant will represent approximately 10% of Kia's total global manufacturing output.
The plant comprises four main shops: stamping, body welding, paint and assembly.
"We are very proud of this great achievement, not only because we have built one of Kia's largest plants in the world, but also because we did it in record time," said Seong-Bae Kim, President of Kia Motors Mexico. "And thanks to the state-of-the-art technology and manufacturing processes being introduced to the plant, we expect our facility to be one of the most environmentally-friendly automotive manufacturing plants in the region," he added.
Kia's Mexico plant joins the 10 other manufacturing facilities in Korea, China, Slovakia, Russia and the USA where Kia vehicles are assembled. Some 60% of output from the plant will be exported to North America while 20% will supply the Mexican domestic market, and the remaining 20% will be exported to neighbouring countries in Latin America.
Kia said that when designing the plant, architects were inspired by traditional Mexican culture and "the main entrance bears striking similarities to the archaeological site of Teotihuacan, where the pyramids of the Sun and Moon serve as focal points for its dramatic layout".
The Kia Mexico plant utilises an advanced monitoring system that promotes continual improvement in energy saving and environmental conservation. Furthermore, the plant boasts an integrated water treatment plant which will prevent soil contamination and harmful runoff into the nearby Pesquería River. The plant also uses LED lighting technology to save energy and is expected to introduce various projects to promote the use of alternative energy sources such as solar energy.
Kia says it will take less than one minute for a vehicle to come off the assembly line, making the Mexico facility among the most productive among all Kia plants globally.