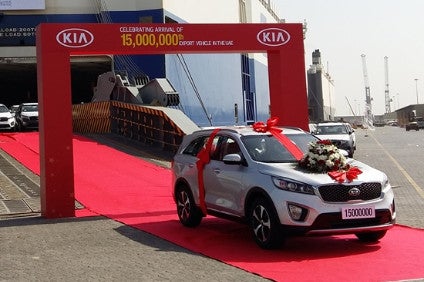 Hyundai Motor affiliate Kia announced on Tuesday it had shipped 15m vehicles to other markets, 40 years after starting exports.
The nominated milestone vehicle was a Sorento sent to the UAE.
The Rio is the most exported model with 2.23m units shipped followed by the Sportage (1.57m) Picanto (1.43m) and Sorento (1.08m).
By region, 6.03m vehicles were shipped to North America, 3.35m to Europe and 2.52m to Middle East & Africa. The Central & South American region (including the Caribbean) took 1.71m and Asia Pacific, 1.29m.
Kia has four manufacturing plants in South Korea and overseas manufacturing in the United States, Slovakia, China and most recently, Mexico.
Kia began in 1944 as a manufacturer of steel tubing and bicycle parts, then complete cycles, and later built small motorcycles under licence to Honda. Truck and car production was originally under licence to Mazda. It also assembled the Fiat 132 and Peugeot 604 for a time. For a period, government policy forced it to make only trucks and, when it returned to car production in the mid-1980s, Kia aligned with Ford to produce a line of small, Mazda-based models. Its first 'own' product was the 1982 Sephia which used Mazda-licensed mechanicals.
Kia went bust in 1997 during the Asian financial crisis and Hyundai subsequently acquired a majority shareholding, since diluted. The two automakers share platforms and mechanicals, and have shared assembly plants, but each operates independently worldwide.