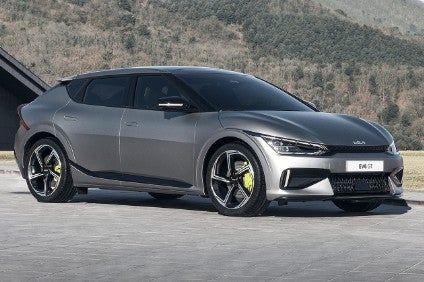 Kia Corporation launched the all-electric EV6 passenger car in South Korea today, the first model to be sold under the Kia brand based on Hyundai Motor Group's electric-global modular platform (E-GMP).
The car was first unveiled at the end of March, soon after the domestic launch of the Hyundai Ioniq 5 which is also based on the same platform.
The EV6 comes with two battery options: a standard 58-kilowatt-hour (kWh) pack which provides a range of 370km on a single charge and a 77.4-kWh pack providing a range of 475km.
Local prices start at KRW47m (US$40,800) for the entry-level model and KRW57m ($49,400) for the long range model, before government subsidies.
South Korea's second-largest automaker said the EV6 would be launched in Europe and the US later this year. It claims to have already received more than 30,000 preorders for the model from domestic buyers and a further 8,800 from buyers in Europe and the US combined.
The company aims to sell 13,000 EV6s in South Korea this year and a further 17,000 units overseas.
Hyundai plans to launch its second model based on the E-GMP platform, the Ioniq 6, next year to be followed by the Ioniq 7 large SUV in 2024, with Kia versions expected to follow.