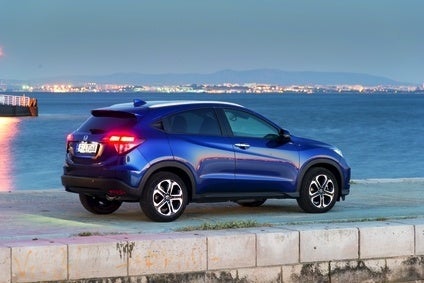 It took a while but Honda's HR-V compact SUV has finally emigrated to Europe, from Mexico. Here's a summary of an entrant into a segment Honda effectively invented, abandoned, and now returns, this time to face off against lots of rivals.
Need-to-know from just-auto's PLDB
Honda Vezel, Vezel Hybrid, HR-V & XR-V (2013 to 2019)
Rival for Subaru XV Crosstrek (the segment's number one in the US), Renault Captur, Nissan Juke, Opel/Vauxhall Mokka, Buick Encore, and Ford EcoSport previewed by the Urban SUV Concept at Detroit January 2013.
NAFTA markets versions made with third generation Fit [Jazz; shares Global Compact Series platform] at Celaya, Mexico. In April 2015, American Honda expected 70,000 first year sales in the US starting May.
Europe HR-V regional debut at October 2014 Paris show with 1.6 i-DTEC diesel. Also sourced from Mexico with 1.5-litre petrol alternative.
Original launch late 2013 in Japan as Honda Vezel with 1.5-litre petrol engine or 1.5-litre engine + one electric motor hybrid powertrain which accounts for majority of Japan sales. Intelligent Dual Clutch Drive (i-DCD) lightweight, compact one-motor hybrid system is from Fit Hybrid.
Two versions for China: Vezel, from Guangqi Honda joint venture, was first at April 2014 Beijing show. Dongfeng Honda version is Honda XR-V. Vezel on sale October 2014, XR-V November.
HR-V build in Argentina from April 2015. 15,000 a year, 70% for export from plant in Campana. Initial 21% local content.
Honda says: "Stylish coupé looks with the tough stance of an SUV, the space and versatility of an MPV, sophisticated yet fun driving dynamics and fuel efficient performance.
Anticipates 70% of new customers will be conquest buyers from other brands, predominantly from MPV and C-segment. "Designed to appeal to young singles and pre-family couples who value their lifestyles and are design conscious".
Choice of 120PS 1.6 litre i-DTEC diesel or 130PS 1.5 litre i-VTEC petrol engines from Earth Dreams Technology series. Six speed manual standard. Petrol offers CVT 'seven speed' option.
On sale late UK summer
Rear door handles hidden in C-pillar, like Civic five-door models.
Claimed class-leading aerodynamic performance with three covers (under the engine, front floor and rear floor) to smooth and optimise air flow and enhance noise insulation.
Jazz-style centre mounted fuel tank layout creates claimed class-leading interior space.
Magic Seat system provides extra cabin versatility. Utility mode – rear seat back folds forward as base lowers into rear passenger footwell, creating 1,845 mm long flat floor. Tall mode – front of rear seat base rises up and back and locks vertical to leave 1,240mm cargo height floor to ceiling, allowing tall objects in.
Long mode – front passenger seat back folds back to horizontal while rear seat back folds forward, forming 'tunnel' to accommodate items up to 2,445mm long.
Load capacity claimed best-in-class with 453 litres with rear seats upright; 1,026 litres folded.
New, acoustic insulation package developed for HR-V, with non-woven underlay and sound-absorbing carpets from high-grade sedans. Front and rear inner wheel arches have sound-absorbent material. Floor carpet, underfloor cover and dashboard acoustic pad inserts.
Three-dial instrument binnacle has 'floating' illumination rings and ECO Assist which changes backlight speedo colour from white to green during fuel-efficient driving.
Recalling item from 1984 Civic hatch and Accords, new 'wide flow' air outlet with three adjustable air vents across dash with air flow optimised to deliver high volume for outlet nearest side window; low centre volume and medium volume for outlet closest to centre panel.
UK HR-V offered with three trim grades.
Unique in class opening panoramic glass sunroof on top version with one-touch tilt and slide and sliding sunshade.
New 'Smart Touch Interior' functions include: Electric Park Brake, Touch Panel Climate Control and One-Touch Indicator.
Honda CONNECT infotainment system from CR-V standard on mid and upper grade, base model option.
Garmin satellite navigation system standard or optional, integrated with CONNECT, has pre-loaded maps allowing navigation without mobile data.
Base models get five-inch LCD colour display screen and 160-watt AM/FM/CD four speaker audio. Mid and upper grade models have 180 watts and six speakers.
130PS (96kW) 1.5 litre i-VTEC petrol and 120 PS (88 kW) 1.6 litre i-DTEC diesel engines, driving front wheels.
Two wheel drive to start; 4WD option could come later if demand develops. Segment predominantly 2WD in UK.
Engines comply with Euro 6.
1.5 has VTEC (Variable Timing and Lift Electronic Control) and VTC (Variable Timing Control) with direct injection, strong tumble intake ports and optimised piston shape. Reduction in crankshaft weight and independent bearing caps reduce mass.
0- 62 mph in 10.2sec (manual) and 10.8 (CVT ). 54.3mpg (combined cycle); CO2 emissions 120 g/km – both with CVT.
1.6 litre i-DTEC engine offered only in Europe. Common rail turbodiesel has small, high-efficiency turbocharger, low-pressure EGR and high-intake flow, high-swirl cylinder head port. New high strength, lightweight slender crankshaft and all aluminium, open deck, high pressure, die cast engine block reduce weight.
Engine and head cast in Swindon – machined and assembled at engine plant in Mexico.
120PS/4,000 rpm and 300Nm/2,000 rpm – 0 to 62 mph in 10sec. 74.3mpg (combined cycle), CO2 104 g/km.
Six-speed manual standard. Optimisation of physical gear width and layout arrangement shortens gearbox, lightweight and higher rigidity shaft improves efficiency. Shift feel and quality enhanced. Reverse gear engage effort reduced, gear noise in reverse minimised.
New CVT control logic software developed for UK to deliver "direct and linear feeling expected of a manual". Vehicle speed matches pedal position for direct feel, engine speed increases proportionately to pedal position for more linear feel.
CVT software simulates seven speeds and optimises gear change mapping. New programmes provide situation-specific enhancement.
Early Downshift During Braking (EDDB) recognises deceleration, downhill, or cornering, automatically increases engine speed to provide engine braking, allowing quick re-acceleration after slowing or quick acceleration after cornering.
Fast Off measures how quickly driver releases accelerator and maintains engine revs to provide engine braking. Tested for Europe's high speed, multi-lane roads. Recognises when driver has prepared to pass a vehicle in front, but is unable to complete the manoeuvre due to vehicle in next lane. As driver quickly releases pedal to let vehicle behind pass, Fast Off maintains high engine speed for completing overtaking.
CVT economy boosted by wider ratio range and reduced weight, as design rationalised with reduced pulley pressure. Friction reduction achieved through optimised oil pump capacity, reduced oil resistance, low friction reverse brake and reduced rotational sliding parts friction.
27% of body is high-strength steel with improved frame joint rigidity.
MacPherson struts at front, H-type torsion beam rear.
New motion adaptive electric power assisted steering with brushless motor.
All-disc brakes, Anti-Lock Braking System (ABS), Electronic Brakeforce Distribution (EBD), Brake Assist, Vehicle Stablity Assist and Hill Start Assist.
All have alloy wheels.
Safety features include City-Brake Active System, Advanced Driver Assist System which uses radar sensors, plus forward and rear facing cameras, as standard. Technology includes: Forward Collision Warning, Traffic Sign Recognition, Intelligent Speed Limiter, Lane Departure Warning and High-beam Support System.
New Intelligent Speed Limiter combines Adjustable Speed Limiter and Traffic Sign Recognition system. Maximum speed automatically determined by prevailing legal speed limit detected by sign recognition. Lower speed limit prompts vehicle to slow through power reduction. Will also accelerate as needed.
Eight airbags for Europe.