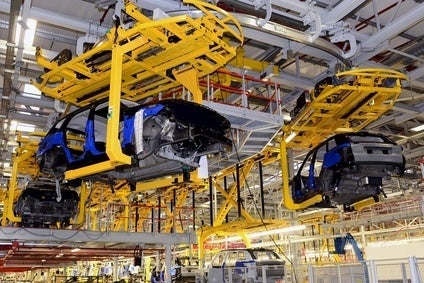 The UK's automotive manufacturing sector grew in June for a sixth consecutive month but its pace of growth slowed as companies battled ongoing material shortages and supply chain disruption, according to the latest Lloyds Bank UK Sector Tracker.
The sector – which includes auto parts manufacturers – posted 52.8 on the Tracker's output index in June (vs. 54.5 in May). A reading above 50 on the Tracker indicates expansion while a reading below 50 indicates contraction.
Alongside growing output, the sector bucked a wider trend of weakening demand to register an eighth consecutive month of new order growth (62.3), accelerating sharply from May (55.8).
While this indicated resilient domestic demand against the backdrop of a slowing UK economy, the Tracker suggested a divergence in overseas demand for UK automotive products.
In June, the sector posted 46.7 on the Tracker's measure of new export orders – its third successive month of contraction and a downbeat signal for future workloads given the importance of overseas demand for automotive manufacturers.
Margin pressures increase, firms stockpile parts
Both automotive manufacturers' input costs (81.3) and prices charged to customers (69.9) continued to be above the 50 no change mark in June but each rose at a slower pace than in May (vs. 88.0 for input cost inflation in May, and 78.8 for inflation in prices charged to customers).
However, the sector's margin pressures, the difference between the rate of inflation for input costs and prices charged to customers, continued to increase for a second consecutive month (11.4 in June vs. 9.3 in May and 5.0 in April) to their highest point since January.
Automotive manufacturers also experienced supply chain challenges in June with firms facing difficulties acquiring electrical items and semiconductors, with reports of shortages 7.5 times and 5.6 times higher than their respective long run averages.
Meanwhile, the Tracker's measure of supplier delays posted its second largest month on month loss of momentum in more than 20 years of underlying data (21 in June vs. 38.3 in May), indicating longer waits for components and materials.
Together, these supply chain headwinds contributed to automotive manufacturers increasing stockpiles of raw materials in June at both the fastest rate and with the largest month on month acceleration on record (78.4 in June vs. 54.5 in May).
Stuart Apperley, relationship director, industrials & transport at Lloyds Bank Corporate and Institutional Banking, said: "Ongoing challenges in the supply of components, increasing economic uncertainty, rising energy and business costs and disruption caused by the Ukraine war have made 2022 a challenging year for the UK automotive industry.
"Positively, the UK continues to see rapid growth in the building of battery electric vehicles, which now make up 16% of all vehicles sold in the UK, year to date.
"The sector has demonstrated its resilience over the last two years, but will need continued investment and proactive support to ensure the UK remains a competitive landscape as it transitions from internal combustion engines to EV and other zero emission technologies."