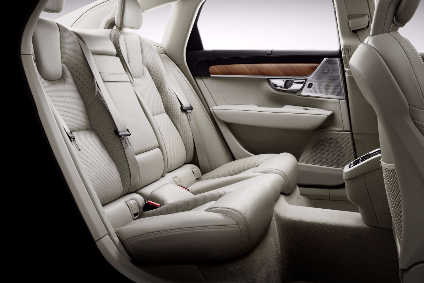 Johnson Controls says it has worked with Volvo Cars to supply seats on the flagship Volvo S90 which will launch in the summer.
It says the seats use high-quality seat cover material, comfortable upholstery and top-quality workmanship to guarantee luxury and comfort. In addition, Johnson Controls developed and integrated the Volvo S90's rear seating, including its metal structures.
"We're very pleased to have had the opportunity to contribute our many years of experience in seating development and manufacturing to the interior design of the Volvo S90," said Tony Malila, vice president & general manager, Customer Group Volvo, at Johnson Controls Automotive Seating.
"Collaborating closely with the team at Volvo, we designed a seat that optimally utilises the vehicle's interior, providing all occupants with plenty of space and comfort. The goal was to make riding in the Volvo S90 feel like driving through the quiet, relaxed calm of the Swedish wilderness. Our task was to create a seating experience that supported that goal. The initial testing of the Volvo S90 by prominent trade media outlets has positively emphasized its seats in particular, which is a great acknowledgement of our collaboration."
In addition to the seat covers and upholstery for all of the Volvo S90's seats, Johnson Controls developed the rear seat bench. Johnson Controls was responsible for its entire development process, from designing and supplying the metal structure to integration.
"The design of the rear seats is closely based on the driver seat, and is in no way inferior in terms of comfort. Since all of the stages of development and integration were in our hands, we were able to create a holistic seating experience, not only through the high quality of the seats, but the optimal use of interior space," says Malila.
"In a vehicle's interior, space is the greatest luxury," said Malila. "Volvo Cars recognised this and consciously applied it to the Volvo S90. While the front seats offer the highest degree of comfort, they take up relatively little space, primarily due to their extremely slim backrests. This allowed for plenty of legroom for the rear passengers. Our aim in designing and integrating the rear seat bench was to support Volvo's approach in this area."