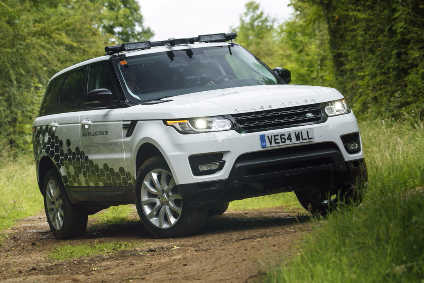 Jaguar Land Rover says its focus remains firmly at home in the UK despite expanded operations overseas.
The manufacturer will become the first British automaker to open a factory in Nitra, Western Slovakia, the importance of which could be gauged at the recent Central and Eastern European Automotive Forum in Prague.
JLR was visiting the Forum on an informal basis, but the opportunities provided by the Slovakia factory provoked intense interest from dozens of suppliers present at the Czech conference, who could be seen forming a large queue to talk to the British manufacturer.
"Jaguar Land Rover is continuing to make investments into the UK," said JLR supply chain & external engagement manager, Mike Mychajluk at last week's SMMT Open Forum in Birmingham. "In this post-vote [Brexit] era we have not changed our business policy. A lot of that investment is still focussed on the UK.
"Why Theresa May wanted to visit JLR – one of the first policies after she she became Prime Minister was the importance of jobs. I measure every single job in product creation processes.
"We do have a deep supply chain. JLR and the big OEMs need to deal with the big Tier 1s, but there is a lot more spend going up-stream. Yes, foreign direct investment is important [but] the big players need to be based in the UK. We need to be growing what we have domestically."
JLR is the largest automotive manufacturer in Britain, doubling sales and employment in the UK, while also injecting GBP1bn (US$1.2bn) into a domestic engine plant creating several hundred new jobs.
"We have a very different and unique culture in this country," added Mychajluk. "Once you get into the UK, you find it quite addictive.
"Working at JLR is absolutely mad. We are doing more than we have ever done in our history, delivering new vehicles to market. You go in on a Monday morning and it is full on.
"We are focused on the UK, but we have expanded elsewhere, Austria, Slovakia, Brazil, but our heart firmly remains in the UK."
Mychajluk acknowledged there was uncertainty following Britain's decision to leave the EU, but that JLR would continue to be one of the UK's leading manufacturers with significant opportunities both at home and overseas.
"If we don't step up our game in a period of uncertainty, there is a risk of attrition and we do need to be mindful of that," he noted.
"The vision we have is not a vision of a little England, Scotland or Wales. It is going back to our strengths of big, international trade and having a vision of being a leader in international trade."
JLR's Slovakian plant will manufacture aluminium vehicles, with the first cars coming off the production line in late 2018. Initial capacity will be 150,000 vehicles.