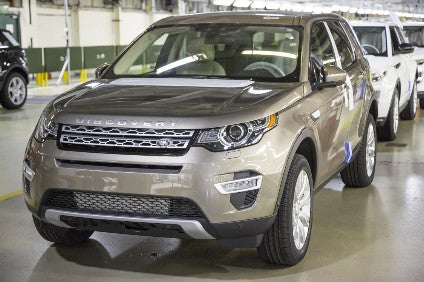 Tata Motors' Jaguar Land Rover is now Britain's biggest vehicle producer with its 489,923 units built in 2015 (up from 449,507 in 2014) nudging ahead of Nissan's 476,589 (500,238).
Next, a long way back, was BMW's Mini with 201,207 (178,993), Toyota 190,161 (172,215), Honda 119,414 (121,799) and GM's Vauxhall 85,241 (77,836).
British manufacturers made more cars in 2015 – 1,587,677 – than any year since 2005 when 1,595,697 vehicles were produced, according to the Society of Motor Manufacturers and Traders (SMMT). Production increased 3.9% on 2014 with output at 1,587,677 overtaking pre-recession levels for the first time.
A record number of cars – 77.3% of total production – was for export, with 1,227,881 units leaving the UK, up 2.7% on 2014 levels.
Challenges were experienced in some global markets such as China, where demand fell by 37.5%, and Russia, where export volumes declined 69.4%. However, the economic recovery in Europe, the UK's biggest trading partner, boosted demand for UK-built cars considerably by 11.3% in 2015. The region now accounts for 57.5% of all UK car exports.
Appetite for British-built cars grew significantly in other key and emerging regions, demonstrating the strength and diversity of UK manufacturing and product. In the US, demand rose by more than a quarter (26.5%), making it the UK's biggest trading destination outside the EU, ahead of China.
Meanwhile, notable growth was also seen in Australia, South Korea, Turkey and Japan with volumes up 53.7%, 55.2%, 41.1% and 35.4% respectively.
British consumer and business demand for British-made cars also contributed to last year's success, with the home car market rising 8.1% on the previous year. One in seven new cars registered in the UK in 2015 was made in Britain.
Mike Hawes, SMMT chief executive, said: "Despite export challenges in some key markets such as Russia and China, foreign demand for British-built cars has been strong, reaching record export levels in the past year. Achieving these hard fought for results is down to vital investment in the sector, world class engineering and a committed and skilled UK workforce – one of the most productive in the world.
"Continued growth in an intensely competitive global marketplace is far from guaranteed, however, and depends heavily on global economic conditions and political stability. Europe is our biggest trading partner and the UK's membership of the European Union is vital for the automotive sector in order to secure future growth and jobs." [The UK is to conduct a referendum on exiting or remaining in the EU – ed]
The performance of UK automotive is very different compared with UK manufacturing as a whole, according to Office for National Statistics figures, which show the average manufacturing output to have slowed in recent months. Eight brand new car models were produced in UK plants in 2015, and with GBP2.5bn of fresh investment committed to the sector in 2015, more are set to follow in the coming months.