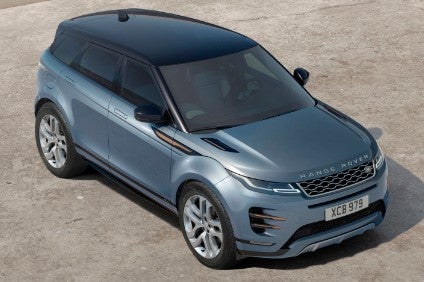 Tata Motors ' Jaguar Land Rover said it had placed contracts worth over GBP4bn with UK suppliers for production of the redesigned Evoque unveiled in London last week.
That was a "testament to JLR's continued confidence in the competitiveness of its domestic suppliers", the automaker said in a statement.
Its own GBP1bn spend to put the new Evoque on sale covered research, development, design, advanced technology engineering and manufacturing.
The model has a restyled body on new architecture, emissions reduction technologies including hybrid-electric, and design features such as Velar-like deploying door handles.
Improvements to develop flexible manufacturing for the new model at the plant at Halewood, on Merseyside near Liverpool (originally opened to build Ford's Anglia in 1964), included a new stamping line and hybrid-electric assembly technology, alongside "significant" extensions and upgrades to existing facilities.
"Production overseas will meet local market demand," JLR said.
Data in just-auto's Production Lifecycle Database (PLDB) for the new Evoque shows the new model will be assembled overseas at Tata's plant in Pune, India, the Chery-JLR joint venture factory in Changshu, Jiangsu, China and JLR's own facility in Brazil, at Itatiaia, Rio de Janeiro. All three markets encourage local build by imposing restrictions and/or import duty penalties on imported complete vehicles.
When all versions are on sale, the latest Evoque will offer petrol, diesel and hybrid electric engines.
In a claimed first for the compact luxury SUV segment, the model will be electrified with a 48 volt mild hybrid system from launch followed, 12 months later, by a three cylinder petrol plug-in hybrid drivetrain.
"The transformational success of the Evoque is undeniable," JLR said.
"With its debut in 2010, Jaguar Land Rover brought a completely new type of vehicle to its customers around the world and pioneered the premium compact SUV segment. The segment has continued to grow significantly and its popularity shows no sign of abating.
"The original Evoque is one of the company's greatest sales success stories. With over 217 international accolades since it was launched, it is also the most awarded Land Rover."
"The Range Rover Evoque has been a fundamental driver in Jaguar Land Rover's global success. Since it first rolled off the Halewood production line, we have exported 80% of all we have made. Our commitment to UK production remains firm and the new Evoque benefits from the GBP1bn investment," said chief executive Ralf Speth.