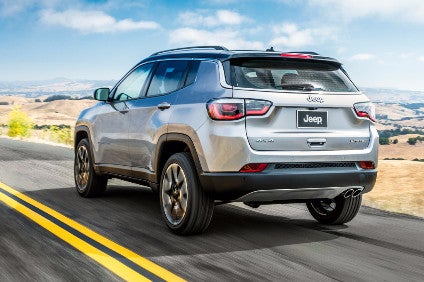 Jeep has started production of the redesigned Compass at FCA's Brazil assembly plant in Goiana, Pernambuco and introduced the new model there.

Described by FCA as "a truly global all-new compact SUV, the Compass will be produced with 17 powertrain options for sale in more than 100 countries.

"The all-new Compass expands the brand's global reach with an unmatched combination of attributes that includes legendary and best-in-class 4×4 off-road capability, advanced fuel-efficient powertrains, premium and authentic Jeep design, superior on-road driving dynamics, open-air freedom, and a host of safety and advanced technology offerings," the automaker claimed in a statement.

Sales start in North America in the first quarter of 2017 and more details for that core market will be announced when the Compass makes its debut at the Los Angeles show in November.
The outgoing Compass, built in Belvidere, was launched in North America for the 2007 model year, received an interior refresh for 2009 and an exterior makeover for 2011 with far better 4×4 capabilities to match its new 'mini Grand Cherokee' styling.
Until 2010, when a two-litre four-cylinder unit became the base engine, the standard engine had been a 172hp 2.4 I4 driving through either a five-speed manual transmission or a CVT. A Volkswagen-supplied two-litre diesel had been offered outside North America from October 2007 but this was replaced by a 120kW (163hp) 2.1-litre Mercedes-Benz unit in late 2010.
The higher-riding Jeep Patriot was a related model intended as a rival for the Toyota RAV4.
Another facelift for 2014 brought aa new six-speed automatic gearbox to replace the CVT.
According to just-auto's PLDB product life database, the Compass redesign is long overdue.
This rival for the Nissan X-Trail/Rogue had been due to go on sale in North America and Europe in early 2013 but the start of production was delayed.
The 'C-SUV' project, as the then separate Chrysler and Fiat called it, uses a version of the platform that underpins the Dodge Dart. This one vehicle will eventually replace both the Patriot and Compass.
A closely related Alfa Romeo crossover to rival the Audi Q5 will also be part of the C-SUV project. Fiat had said the Mirafiori plant in Turin would make both models on the group's Compact Wide architecture but a period of weakness of the dollar against the euro caused a change of thought.
The crossovers and SUVs once due to be made at Mirafiori will instead be built in Mexico. Fiat has set the production targets at an ambitious 100,000 for the Jeep and 150,000 for the Alfa. There might also be a Fiat variant.
There was a new development in May 2013 when just-auto reported a Jeep 'SUV compact-medium' would be built in Brazil from December 2015. The codename was stated as being '546', with the model closely related to a future Fiat variant (codename: XSU) as well as a Fiat pick-up (codename: 226). In April 2014, just-auto reported a Jeep codenamed 551 would be built at Goiana from the first quarter of 2016 alongside a closely related pick-up, still codenamed 226. Goiana, which was officially opened in April 2015, has an initial capacity of 250,000 vehicles per annum. Its first product was the Jeep Renegade. The 551 project is now a localised version of the new Compass.
The Compass will also be built in China by GAC Fiat. Chrysler told media in April 2014 three Jeep models would be made in Guangzhou from late 2015, but did not name them. According to a curiously worded statement, "GAC Fiat is establishing a manufacturing branch in Guangzhou". Given the short space of time between April 2014 and the end of 2015, the "manufacturing branch" is of course an existing GAC facility, not a new plant. GAC Fiat has one production plant but this is in the city of Changsha and it makes Fiat cars.
In June 2014, GAC Fiat Automobile broke ground in the south China city of Guangzhou for its second assembly plant. The CNY4.2bn factory started production this year and will build up to 160,000 vehicles annually when it reaches full capacity, media reports claimed. The Compass is expected to be made there.
FCA announced that it is spending the equivalent of US$280m to lift the capacity of the JV plant which it operates with Tata Motors in Ranjangaon, some 50km from Pune. The Compass is expected to be one of the first models to be made there.